News From:
Regional Sections
Southern California: Fourth Annual Event Planned
The Southern California Regional Section presents the Fourth Annual Theatre Design and Production Job Fair Expo and Student Design Exhibit and Competition Saturday, January 22.
Members of the USITT Southern California Section (and those from neighboring Sections) are encouraged to save the date. The event is scheduled from 10 a.m. to 3:30 p.m. at the Ruth B. Shannon Center for the Performing Arts on the campus of Whittier College in Whittier, California.
Faculty and other theatre professionals, along with students, are welcome to attend at no charge. Potential employers and representatives from graduate and undergraduate programs are invited to participate in the job and career fair. Student designers, technicians, and stage managers for theatre and dance productions are encouraged to submit their work for the Richard Thompson Student Design and Production Exhibit and Competition.
For more information about the event, contact Section Co-Chairs Donna Parsons (stagemama@aol.com) or Jim Taylor (jptaylor@pomona.edu). For information about the venue, contact Brian Reed (breed@whittier.edu).
Southwest: Symposium Slated
The Southwest Regional Section's Winter Symposium will be held January 15 to 16 in San Antonio, Texas. San Antonio College will host the masterclasses, and tours of both the McNay Art Museum's Tobin Collection of Theatre Arts and SeaWorld San Antonio will be featured.
The Tobin Collection of Theatre Arts, which includes close to 9,500 objects, emphasizes scene and costume designs for European and American theatre from the 16th century to the present. Highlights include Baroque festivals, Shakespeare plays, the Ballets Russes, Broadway musicals, and contemporary operas. The Tobin Collection includes the work of path-breaking designers from Edward Gordon Craig and Robert Edmond Jones to Ming Cho Lee and Ralph Koltai, as well as by artists in the theatre including Pablo Picasso, Natalia Gontcharova, Robert Indiana, and David Hockney.
SeaWorld San Antonio will host a day of backstage tours and discussions with department heads exploring the challenges of theme park entertainment. SeaWorld San Antonio is the largest of the SeaWorld parks, covering 250 acres.
Students are encouraged to enter the Student Design Competition and Exhibition, an adjudicated exhibit. Past prizes have included: USITT Conference registration and travel sponsored by Schuler-Shook; Cirque du Soleil show tickets; Fisher Technical one- week Navigator seminar; Meyer Sound Lab one-week audio seminar; Vari-Lite one-week moving lights seminar; SILV summer program tuition; and WYSIWYG Educational Version. There is a $10 entry fee.
Masterclasses include Rock & Roll Lighting (design and programming), Casting and Molding for Costume Crafts and Props, Scene Painting: Wood Graining Techniques, a Costume Mixed Medium Rendering Class, and a Digital Scenic Rendering Class. Interviews and portfolio reviews with representatives from SeaWorld, Cirque du Soleil, and other regional vendors will also be featured.
Cost for the weekend is $35 for Student Members and $45 for Individual Members. Check usitt-sw.org for updates.
Desert State: Student Awards Offered, Accomplishments Reviewed
Attention all college students! Saturday, December 4 is the deadline for The Desert State Regional Section's Student Award Program. All entries are due to the committee or section board by that date.
This award program, sponsored by the national organization, assists three students from each section to attend the Annual USITT Conference & Stage Expo. The 2011 Conference will be held in Charlotte, North Carolina from March 9 to 12. The National organization provides free registration to the conference while the Desert State Section helps with travel expenses and pays for one year of national student-membership.
Specific requirements and award details will soon be on the website and distributed to all colleges and universities. For more information, contact one of the award committee members: Jill Maurer at jmaur@wrldesign.com, Jimmie Byrd at jimmiebyrd@msn.com, or Ronald Thacker at ronald.thacker@asu.edu.
The Desert State board held a board retreat at Northern Arizona University where it planned the calendar for the year and organized events. The year started with a student-focused workshop in Flagstaff. The morning session focused on portfolio reviews and applying for jobs while the afternoon session consisted of a hands-on, found object build project.
The Desert State board congratulated the Arizona State Thespian Festival on its 30th anniversary. This is an excellent event for high school students and several local vendors also participated.
David Grindle, Executive Director of the national organization, will be the keynote speaker at the Section's annual meeting January 17. The annual meeting committee is in conversation with local vendors about participating in the vendor fair and presenting workshops. Check the website in December for workshop details and to register.
Midwest: Community Theatre Hosts Midwest Event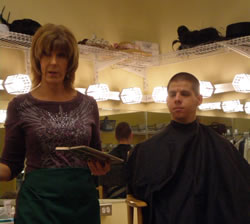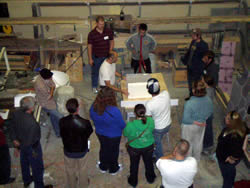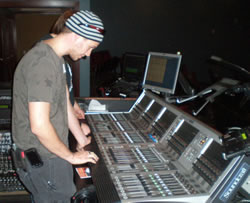 The Midwest Regional Section started its 2010-11 programming year in October with an event on the east side of Lake Michigan in downtown Grand Rapids, Michigan. Jim Chervenka and the staff at Grand Rapids Civic Theatre (GRCT), one of the largest community theatres in the country, hosted an educational and interesting day of hands-on work.
The day included a make-up workshop presented by Dawn Butler; a demonstration of moving fixtures, LED fixtures, and accessories for convention fixtures by David Kolenda of John S. Hyatt & Associates, the opportunity work with five audio consoles with direction from sound designers from GRCT and Gus Gustafson of Corporate Sound; and a showcase of the ways to use expanded polystyrene foam in productions by David Len, GRCT's scenic designer, and Brad Wynalda of Arvron Inc.
Up next in the Midwest Regional Section is the January event at University of Wisconsin-Whitewater January 22. The day will include a wireframe headpiece workshop presented by Jeff Lieder where participants will leave with a completed headpiece. Other workshops include: Down and Dirty White Models, Best Practices for Stage Management, and Working with Vectorworks and Lightwright. Visit www.usittmidwest.org for more information.