News From:
Sustaining Members
Checkers Offers Traction Kits, Protectors

Checkers Industrial Products, Inc. now offers optional traction kits for a large variety of its cable protectors. This is just one more safety benefit to their industry-leading line of cable protection products.
For increased traction, Fastlane Drop Over Cable Protectors are available with optional Velcro strips for use on carpet and/or anti-slip rubber pads for use on smooth surfaces. These interlocking cable protectors reduce trip hazards and can be extended to any length. For more information, visit www.cableprotector.com.
Stage Technologies Launches CH:i

Stage Technologies announced the launch of CH:i – ChainHoist Intelligence. This technology provides control of variable speed chainhoists even if they are integrated into a larger system with power flying winches, performer flying, deck tracks, and stage lifts. Fully compatible with all Stage Technologies control desks and touring automation systems, CH:i can be used on the road or in a permanent venue installation.
Also new to market from Stage Technologies is an enhancement to the popular Verlinde Stagemaker hoist. Stagemaker Max:d uses an onboard variable-speed drive system, providing an advanced feature set to include locked groups, "teach and learn," and complex cueing actions.
For more information, contact pr@stagetech.com or visit stagetech.com.
Sapsis Announces New Rescue System.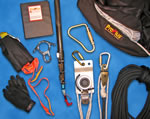 In keeping with its leadership role in fall arrest equipment and technology, Sapsis Rigging, Inc. introduced the ProPlus Rescue System designed to work anywhere a fall hazard exists. The ProPlus Rescue System allows for the safe and rapid assisted rescue of a victim.
The system can be safely attached to a truss, beam, catwalk or grid, and can be deployed in less than a minute. It meets the requirements of OSHA regulations for assisted rescue.
For further information, visit sapsis-rigging.com
SILV Plans Summer Session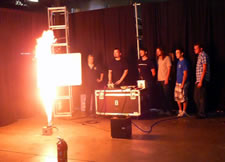 Stagecraft Institute of Las Vegas (SILV) is hard at work making its 2011 summer program – its fifth season – the best yet.
In addition to the return of favorite sessions, next summer will see the addition of new topics including Automation, Patterning, and Projections & Video. For students who can't make it to Vegas for a full week, or for weekly students who want a little something extra, SILV announced a new series of weekend sessions in specialized topics. The weekend sessions include CAD Calculations, Photoshop for Theatre, Foam Carving, Stage Management, Gobo Color Magic, and Design Charette.
Students who sign up and pay in full before April 1 will get a special early bird discount on tuition and fees. Members of USITT, IATSE, USA, and IAAM receive the same savings, and the two discounts are combinable. Find out more at stagecraftinstitute.com.