Commissions
Costume Smorgasbord Awaits in Charlotte
The Costume Design & Technology Commission will offer a diverse array of events at the 51st Annual Conference & Stage Expo in Charlotte. Events will begin Tuesday, March 8.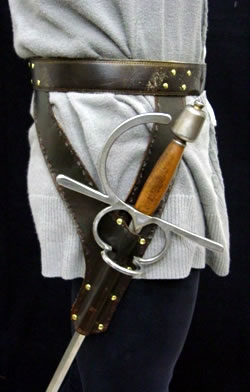 Colleen Muscha will lead a day-long workshop on creating leather sword belts and baldrics. Process and techniques will cover various types of swords and holders, proper fit, construction techniques, leather stamp tooling, dyeing of leather, etc. Tandy Leather has donated leather and supplies. This professional development workshop is held off-site and includes transportation.
Tuesday afternoon will include an excursion to Mary Jo's Cloth Store, just south of Charlotte in Gastonia. Many people think Mary Jo's is the best fabric store on the east coast. It started 59 years ago as a small mill-outlet. Its silk and bridal areas are awesome, the trim department is mouth-watering, and the home decorating and cotton quilting sections are each larger than many individual fabric stores. Transportation is included.
The first daily session begins Wednesday morning, March 9 with a look into two private clothing collections as an introduction to the costume exhibit on the Expo floor. Garments from two renowned collectors, Gene London and Harriett Lake, are featured. Mr. London assembled a world-class collection of costumes created by some of the film industry's greatest designers—Adrian, Edith Head, Walter Plunkett, and Bob Mackie are just a few of the famous designers represented. Ms. Lake's closet contains over 4,500 hanging pieces: 1,600 hats, and 450 pairs of shoes. Hers is an almost intact wardrobe of post-WWII fashions featuring pieces by Coco Chanel, Christian Dior, and Adrienne Landau.
Additional sessions Wednesday include: accurately patterning bodices, a look into the process of transitioning into designing for film and television, and a presentation by Charles Mo, curator of the costume collection at Charlotte's Mint Museum of Art. He will present selections from the museum's historic 18th, 19th, and 20th century collections. The day will wind up with the annual informative Commission meeting.
The week continues with sessions on topics that include the popular poster session; costume distressing techniques; a hands-on costume technology event; custom designing fabric for Walt Disney Company's various entertainment venues; creating period hats from "those unwanted donations"; the inner workings of wardrobe personnel on Broadway shows; techniques used by various designers in creating poses for costume renderings; and designing costumes for dance. Additional events of interest include a talk by the Commission's international guest and an event honoring an outstanding individual in the field.
Finally, all Commission friends and members are invited to an evening reception to enjoy networking with colleagues, visiting with old friends, and welcoming new ones.