News From:
Around the Institute
Sapsis Receives ESTA's Highest Honor
ESTA (the Entertainment Services and Technology Association) presented the 2010 Eva Swan Award to Bill Sapsis for his dedicated volunteerism and the exceptional impact his efforts have had on the association, The ESTA Foundation, and the industry.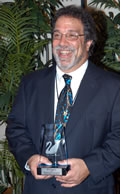 The award was presented at ESTA's annual dinner October 21. Mr. Sapsis's accomplishments include being a founding member of the ETCP Council, Co-Chair of the Subject Matter Experts for the ETCP Rigging Certifications, Co-Chair of the Technical Standards Program Rigging Working Group, member of the Technical Standards Committee, member of The ESTA Foundation's Behind the Scenes Committee, and founder of the Long Reach Long Riders. He is also an author, teacher, and speaker acting as an ambassador on behalf of ESTA, ETCP, and Behind the Scenes around the world.
The Eva Swan Award is presented to a member who has put forth exceptional efforts in time, expertise, and personal resources on behalf of ESTA; been instrumental in shaping and promoting the strategic direction of the association; made major contributions to the realization of the mission, goals and objectives; and enhanced the value of membership for all.
Member Releases New Book
Rich Dunham recently released new book. A former member of USITT's Board of Directors and Lighting Commissioner, he is well-known for his lighting design work.
The book, published by Pearson Education, is Stage Lighting: Fundamentals and Applications. This text was published August, 2010 and is available for purchase at mypearsonstore.com or for adoption in any Lighting Design course.
Click here for more information. Contact Wendy Gordon, executive marketing manager, with any questions.
An Amplification - Edward Kook
We received a very illuminating message from Dr. Joel E. Rubin, USITT Fellow and our second President, in response to Rich Dunham's article in the November issue.
"An article concerning USITT's Edward F. Kook Fund in the current Sightlines is in error in stating that Past-President Kook was one of USITT's Founders. He was not, but the story is actually more interesting than that.
Esteemed late member Kook (who served also as USITT's eighth President) was, at the time of USITT's founding, the behind the scenes string-puller in the "Board of Planning and Standards for the Living Theatre" which had Jo Mielziner as its chair and Henry Hewes as Executive Secretary. The Board was established within (ANTA) the American National Theatre and Academy's New York Chapter, and was set up to include many of the movers and shakers who would be involved with the design of theatre buildings. Kookie considered USITT to be a threat to the Board's own agenda, and efforts of collaboration proffered by USITT were continuously rejected. For example, the Board of Standards and Planning for the Living Theatre was one of the invitees to the initial formation meetings of the Institute but declined to participate. Ben Schlanger, the first USITT Vice-President, and also a member of the Board, came under great pressure to limit his USITT affiliation.
In all fairness, Kook made some concessions to allow Chuck Levy and Sonny Sonnenfeld, both employees of Century Lighting, to be active in USITT and to sit on the USITT Board. Chuck was much beloved by all who knew him. He worked for Ed at Century Lighting and his job was to keep in contact with the Broadway electricians. Sonny Sonnenfeld, now perhaps the oldest living member of USITT and by common acclaim the industry's greatest salesperson, (and, a Founding Member of USITT), also served several distinguished terms on the USITT Board. Chuck and Sonny, to their credit, were never pawns in their USITT Board responsibilities.
It took Jo Mielziner to convince Ed to join USITT. That took place sometime after February of 1964 when Stanley McCandless was honored at the USITT Convention banquet and Kook and Mielziner attended. Kook told me later that he had been impressed that I, then an officer at Kliegl Lighting, had presided over a banquet for a retiring employee/consultant of Century Lighting. I suspect it was Mielziner who pointed out to Kook that there were 400 or so potential customers sitting in that banquet room.
Ed Kook's role in USITT after he joined (possibly, about 1968 just after he had sold Century Lighting to LIghting Corporation of America) was always principled and enthusiastic. He was a demon at getting things done, he rescued the Institute from financial disaster, promoted the idea of endowment funds, and participated actively until a short time before he passed away in 1990. He became a great mentor to many of us who were active in USITT."
We thank Dr. Rubin for his careful reading, and for sharing his knowledge with us.
Liberace Museum Closes Doors
After 31 years of operation, the Liberace Museum closed its doors October 17 to focus its monetary contributions on the Liberace Foundation. The closure was blamed on the economic downturn and the decline in the number of visitors.
The memorabilia at the Liberace Museum will be maintained. A national touring exhibit is planned, and details will be announced at a later time. The board will also continue to research options for a location change to make the museum more accessible to potential patrons.
In Memoriam: Oscar Brockett
Theatre historian and scholar Oscar G. Brockett died November 8. He was 87. Dr. Brockett's many honors include the USITT Award in 2009 and the 2010 Golden Pen Award for Making the Scene: A History of Stage Design and Technology in Europe and the United States with co-authors Margaret A. Mitchell and Linda Hardberger.
Dr. Brockett's scholarship was outstanding, and he was considered by many to be the world's foremost theatre historian. His History of the Theatre is the top-ranked and highest-selling theatre history text of the 20th century. He received a Guggenheim Fellowship and a Fulbright Award, was a Fellow of the American Theatre at the Kennedy Center, and was awarded multiple Career Achievement Awards from groups like the Association for Theatre in Higher Education, and the Texas Educational Theatre Association. Click here to view his obituary.
A more complete tribute will be included in future USITT publications.