News & Notices
Uncloaking the Mystery of the Fellows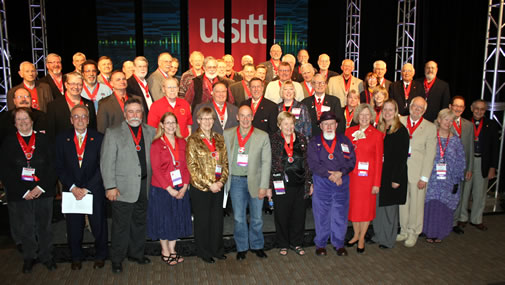 Who are those USITT members with the mysterious handshake – wink – nods, who wear swell golden medallions fastened round their necks on a red ribbon? Their Conference badge indicates they're Fellows. And so, beyond "Jolly Good," just what is a Fellow and why would one want to be so known?
As in any anomalous phenomena such as the Bermuda Triangle, aliens, unidentified objects, supernatural orbs, or life after death, demystification comes with understanding. When the arcane rock is overturned, well-known Fellows "scurry" out: professors, industry contacts, institutional leaders, authors, and artisans, all long-time active USITT members. The opportunity to meet these Fellows will present itself at the 51st Annual Conference & Stage Expo in Charlotte where they will host the new Fellows Network Nexus Area. This informal setting, next to the USITT Booth, will be an area where Fellows and all members may sit to discuss topics of interest.
Who are the USITT Fellows?
The honorary designation of Fellow of the Institute is bestowed for life upon those members who have made a truly outstanding contribution to the theatre and the work of the Institute. Being named a Fellow is one of the most prestigious honors a member can achieve.
How many Fellows are there?
There are currently 74 active Fellows. A maximum of 2.5 percent of the Institute's membership can be Fellows. A Fellow may be named only when there is a vacancy to reach that percentage.
How does someone become a Fellow?
There are no applications for membership. Only Fellows may nominate, through a proscribed process, an individual member as a prospective candidate. An established annual voting procedure is followed in selecting any new Fellows.
What do the Fellows do for USITT?
The mission of the Fellows is to work together as peers supporting the Institute in its advancement, fundraising, and outreach efforts. Fellows will work to be agents of change and ambassadors without portfolio on behalf of the USITT and the Industry at large.
To lead by example in professionalism, ethics, advancement, fundraising, and communication.
To promote Fellows outreach and proactive work within and on behalf of the Institute.
To act as ambassadors without portfolio on behalf of the Institute in both the non-profit and commercial sectors of our industry.
To provide Institutional memory for the organization and the industry.
To provide wise advice and counsel for emerging and current leadership.
To promote communication, openness, and transparency among Fellows, USITT members, and Institute leadership in all of the Institute's proceedings.
To be agents of change on behalf of the best interests of the USITT.
To promote best practices of USITT as a membership-based organization within contemporary society.
To identify achievement within the organization and profession and to reward excellent achievement with admission to the Fellows.
What can a Fellow do for me?
To become a Fellow one must demonstrate significant contributions to the Institute and industry; therefore, they are an incredible resource for information and or mentoring when requested.
How can I contact a Fellow?
Do not be reluctant to contact a Fellow; if one doesn't have the answer to your inquiry, he/she will put you in touch with another Fellow who can assist you. The USITT directory has a complete listing of all active Fellows. By cross referencing a Fellow's name from the list with the Individual Members listings, you can find phone and e-mail contact information.
The Fellows have achieved that rank through many years of exceptional participation in various aspects of USITT and the entertainment business. There are many Fellows who are actively employed practitioners: buying, selling, teaching, designing, manufacturing, and managing many enterprises in and about the industry. There are also some Fellows who are "retired" but that has come to mean even more active than when they held a position in a commercial enterprise or educational institution. To USITT, the Fellows are members who have been deemed leaders in their craft or field and are an indispensable resource in continuing the work of the Institute.
Join the informal conversations that will take place in the Fellows Network Nexus Area. Mentoring for younger members can be established; discussions on the inner workings of the Institute are welcomed; networking with the Fellows can produce valuable contacts. You'll soon learn the Fellows are not an ancient sect that admits candidates by secret rituals the meaning of which is known only to initiated worshipers. Oh, we might know a few of the secrets, but you won't ever learn the answers unless you ask a Fellow.