The Midwest Regional Section recently announced election results for the upcoming year. Elected to two year terms were David Krajec, Section Chair; Scott Georgeson, Vice-Chair of Programming; Kathleen Donnelly, Secretary; and Directors Marty Lazarus, Carey Lawless, Steve Jacobs, and Robert Bonard.
Midwest Section members interested in putting their name on the ballot for the next election should contact David Krajec, Chair, drkrajec@stritch.edu.
Debra Krajec, below center, was awarded the Founders Member Award at the Midwest Regional Section meeting held March 17 at the USITT Annual Conference & Stage Expo in Toronto. Ms. Krajec has been a long standing member, as well as former Chair of the Section. Presenting the award are Bernie Works, left, and Richard Arnold, right, founders of the Midwest Section.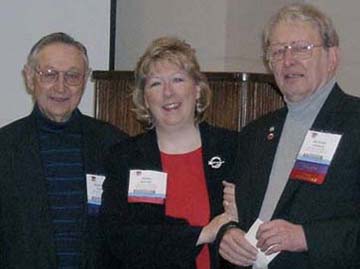 To Top