Looking Ahead to
Louisville in 2006
Looking back at the 2005 conference, every event was bursting at the seams thanks to record-breaking attendance in Toronto. The same held true at Stage Expo where the last exhibitor signed up on the day that the show opened, and we managed to find a space to squeeze him in. Excellent "traffic" on all three days of the show delighted exhibitors, and more than 70 of the 120 booth exhibitors lined up to reserve a booth for 2006.
Priority booth space selection for the next year's show is always held on Saturday, the final day of Stage Expo. Exhibitors are scheduled in five-minute intervals, and there was a steady stream of people at the Show Office from 10 a.m. until well after Stage Expo closed at 3 p.m. More than two-thirds of the available booth space was booked for next year's show indicating that Stage Expo 2006 may have the potential to break the records which were set this year in Toronto.
The 46th Annual USITT Conference & Stage Expo will be held in the Kentucky International Convention Center, which is located on Fourth Street in downtown Louisville. Stage Expo 2006 will be in the KICC's Exhibit Halls C/D, a 146,000 square foot space with conference meeting rooms located just an escalator ride or a short skyway walk away. Conference hotels include the brand-new Louisville Marriott Downtown, which is the headquarters hotel, and the historic, recently renovated Galt House Hotel.
As the priority space selection for booths is being wrapped up, commercial and non-commercial table selection is being conducted via mail, fax, and e-mail. Anyone wishing to exhibit at Stage Expo 2006 in Louisville should e-mail hpwillard@aol.com for more information.
To Top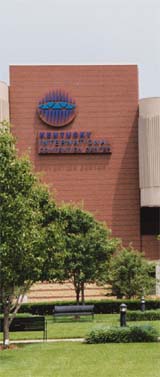 Will USITT's visit to the Kentucky International Convention Center be a record- breaker? More than two-thirds of the available space for Stage Expo 2006 has already been sold.

Photo/Greater Louisville Convention & Visitors Bureau.