"And Flights of Angels shall take him..."

My friend Peter has moved on to another venue,
One which will provide an eternity of flying and joy and peace.
There is indeed such a large gap in the firmament
Where he stood and awed all whom he knew and loved.
I shall miss him, but I shan't forget him
Nor shall I leave off our talks we shared.
We shall continue his unexcelled dedication to the visions of flying
And the safety for all who dare leave this earthly domain
To try their wings in the world of performance.
His name and his presence shall be in my heart and soul
And my daily prayers to the great God who gave him such love and dedication.
I was honored and privileged to offer my small self
To his service,
And he returned my pittance with the enormous wealth of his knowledge
And generosity.
He allowed me to be a loving member of his family,
To know dedication and love of giving,
Unstintingly he gave and sacrificed,
And I was always in his debt.
I shall be at the service of his intimate family,
Barbara, Teresa, Gary, and Joe,
And of the greater family of the world to which he gave so much.
Fly to the heights of Heaven, my dear friend,
Instruct the angels in the basics of high flying,
And know I shall look forward to being carried on their wings To meet with you and share our mutual and endearing care and love
Of all that is near and dear to God and man.
We who are still earthbound shall never forget you
And the visions you have nurtured.
From Crystal Cathedrals to Men of Steel,
In every school and theatre in the world,
You remain in our hearts.
Randy Davidson (your Dr. Doom) February 17, 2005
To Top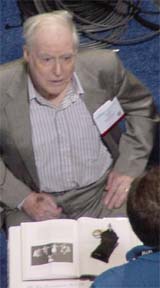 At USITT"s 2004 Stage Expo in Long Beach, California, Peter Foy was always found deep in conversation with an old or new friend or colleague. He will be missed.
Photo/USITT Archive-Tom Thatcher.