A Look Back at Toronto
One of the joys of being President of USITT is the privilege of working with a large group of dedicated volunteers. The members of USITT and the members of CITT/ICTS should be very proud of this last conference in Toronto.
Together we did great things. Thanks to Eric Fielding and so many others, we staged a successful inaugural exhibit of World Stage Design. Thanks to Leon Brauner, our friends at OISTAT, and the International Committee, we hosted a successful OISTAT World Congress. Thanks to Joe Aldridge and the Conference Committee, the 2005 Conference & Stage Expo, the largest in recent times, ran smoothly. Thanks to the Commissions, our exhibitors, our committees, and our related organizations, we had many, many exciting programs to choose to attend. Thanks to the Publications Committee, we had book signings, and launched a new monograph series.
Many other volunteers headed projects such as the Young Designer's Forum, Stage Managers' Mentoring Project, Portfolio Reviews, Tech Olympics, Cover the Walls, Tech Expo, and many, many others. Thanks to Carol Carrigan and our office staff we had support in registration, tours, housing, awards, publications, and all the projects and activities of USITT.
In addition, ESTA, LORT Production Managers, KC/ACTF and USA met with us and supplied programming for all of us. They also worked on their own projects, such as standards and the certification project. This year KC/ACTF gave four student members and three faculty members tuition waivers to attend the KC/ACTF Summer Design Intensives.
This year's Stage Expo was our largest ever. Helen Willard has done a wonderful job of coordinating with our exhibitors. The Contributing and Sustaining members of the Institute continue to not only exhibit at our conference, but show their new products, support our awards, our projects, and our programming.
Finally I would like to recognize the USITT Board of Directors and all the committees that deal with the business of the Institute. These members not only spend their time worrying about USITT and what we should be doing next, but pay most of the cost to participate. These committees deal with fund-raising, finances, nominations, awards, and everything we do. Thanks to action by the Board of Directors, you will be able to share these activities with your friends, since Sightlines is now available to the public.
It takes all of us to make USITT work. Members that attend, members who work, members who plan, members who write, members who share, members who present, and members who financially support the work of the Institute. It is with great pleasure that I say I am a member of USITT and get to work with all of you.
To Top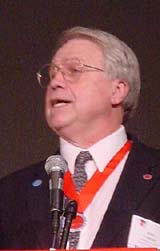 John S. Uthoff, USITT President, addresses the Awards Banquet at the conclusion of the 2005 Annual Conference & Stage Expo in Toronto, Ontario, Canada during March 2005.
Photo/Tom Thatcher