Fielding Receives USITT
Special Citation for WSD
Eric Fielding, the director of World Stage Design, was honored with a USITT Special Citation for his dedication in guiding the inaugural WSD event to a successful opening.
Mr. Fielding developed a passion for international activities through his years of connections with USITT and OISTAT. A member of USITT for more than 30 years, he served as Vice-President for Communications, Publications Committee Chair, Scene Design Commissioner, Director at Large on the Board of Directors, and 10 years as Vice-Chair of the International Committee. Prior to WSD, he acted as coordinator for a number of USITT design exhibitions including the 1991 and 1995 USA entries for the Prague Quadrennial, winning a gold medal in 1991 for "Mozart in America."
In 1992, Mr. Fielding was inducted as a Fellow of the Institute and received the USITT Founder's Award. He has held similar positions in OISTAT, as Publications Committee Chair and Scenography Commission Vice-Chair, as well as being a United States delegation member to World Congresses.
The WSD was an international exhibit of scenic, costume, lighting, and sound design sponsored by USITT, CITT, and OISTAT. It was mounted concurrently with the 2005 USITT Conference & Stage Expo and the OISTAT World Congress in Toronto in March. Over 950 designs of scenery, costumes, lighting, and sound by 532 individual designers from 43 countries were submitted.
A selection jury chose 188 of the most outstanding designs to be included in the WSD Gallery exhibit in Toronto and to be eligible for awards and cash prizes. All submitted designs were included in the published catalog and the CD available from USITT. Now that the precedent for this event has been established, OISTAT has received an offer from Korea to lead the next WSD in four years.
The significance of Mr. Fielding's efforts contributed not only to an outstanding exhibition in Toronto, but the instigation of new approach to the recognition of designers from around the world. WSD will alternate with the Prague Quadrennials to feature and celebrate international design more frequently.
The certificate reads: "With admiration and profound appreciation, a tribute to his lifelong dedication to the recognition and advancement of theatre design world wide, culminating in his outstanding guidance and Herculean efforts in imagining, shaping, and creating the inaugural World Stage Design Exhibition."
To Top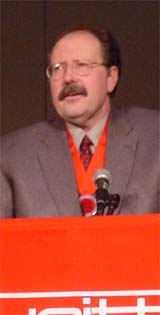 Eric Fielding was honored in Toronto with a USITT Special Citation for his work for the Institute, especially the inaugural World Stage Design competition and exhibition.

Photo/Tom Thatcher