News & Notices
Gateway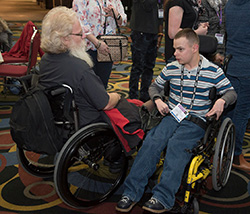 The Gateway program pairs underrepresented populations within the technical theatre industry with professionals who have a similar career path and lifestyle. This opens the door for networking, advice, and connections between students and professionals of similar backgrounds.
In 2016, USITT welcomed 12 mentees and mentors, plus two peer mentors, to the Conference in Salt Lake City.
2016 mentor, Jim Streeter, found his experience with mentee, Luis Garcia, to be priceless.
"I think it's really important to see people who look like you in the profession you aspire to," Streeter said. "Getting underrepresented young professionals to be able to interact with working professionals and being able to introduce them to people in our business is invaluable."
The experience is not only beneficial to mentors, but also provides a world of opportunity for its mentees. Streeter's mentee Luis Garcia hopes to return in the future on the other side of the gateway realm.
"If I got an opportunity to come back as a Gateway peer mentor, I would love it,
Garcia said. "I love the feeling of knowing that a person's life is changed for the better because of you planting that seed in their life."
The deadline to submit nominations and applications for the Gateway Program is Nov. 25!
To submit nominations and applications for the Gateway Program, click here.