Conference & Stage Expo
Career Boosting Opportunities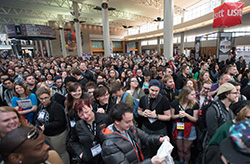 The Annual Conference & Stage Expo offers networking and career building opportunities for student and early career members and attendees. Here's just a sampling of what's available to you at USITT 2017.
Recruitment Tool
In 2017, USITT has created a new tool on our conference registration page to help connect attendees who are seeking employment, internship, and educational opportunities with production companies, manufacturers, and academic institutions.
To make your profile visible to exhibiting companies, simply add your LinkedIn public profile url during registration and indicate the types of opportunities you would like to be matched with.
​Exhibitors will be able to learn about you from your LinkedIn profile and potentially reach out to you to set up an appointment in St. Louis.
Make sure your LinkedIn profile is up-to-date and register at usittshow.com.
Portfolio Reviews
Have your portfolio reviewed by professionals as part of the 2017 Conference.
Portfolio reviews are available for people at every level from student to seasoned professional, including an opportunity for tenure review through USITTs Education Commission. Only those registered for the Full Conference may apply.
Areas of interest are costume design, education, lighting design, management, scene design, properties design, scenic art, scenography, sound design, and technical production.
More information here.
Resume Doctors
​The Resume Doctors booth is back by popular demand. Bring a copy of your resume for review by professionals. Take this opportunity to learn what catches the eye and what doesn't before you head out on your job search.
This opportunity is open for job seekers of all ages.
And, in case you missed it, the current issue of College2Career includes a new column from Ima Hirin offering career advice to help you reach high and go far. Read it here.
Register now for USITT 2017