News From David Grindle, USITT Executive Director
Creativity = Why Not?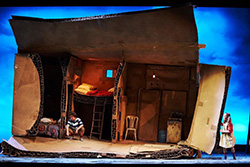 Sometimes a box set is just that.
Almost every person in theatre has worked on a box set: a few walls, some doors, and usually one or more windows. Box sets can be called one of the staples of scenic design. But recently Barbara de Limberg designed a box set for Seattle Opera that was literally that. Her set for Act I of Humperdink's Hansel and Gretel has them living in a gigantic cardboard box.
The detail on this was incredible. Everything had been made to scale. The corrugations in the cardboard were there. The old tape marks and a few tape pieces were on the outside. The way the rooms had been made of cardboard had a sag to it, like an old cardboard box.
It's simple in one way, and simply brilliant. It is a box set. Something so common became fascinating because she changed the scale. The fabrication of her design was also part of the mystery of it because she took the time to make sure the shop built every detail of an old box. Joel Adam's lighting design made it all come to life. So why did this set make me want to fly across the country and go to two and half hours of German opera?
They asked "Why not?"
They took an idea that is both simple and ludicrous in the eyes of some and said, "Why not do it?" It fits the production. Director (and costume designer) Laurent Pelly has a very different take on this fairy tale. But the team came together and said, "Why not?" The location of the witch's house is a gigantic candy store. Why not? But the box set, that is the striking image that made me see the risks taken and rewarded.
So much these days, ideas get shut down because of budget or even lack of belief. In our contemporary quarterly capitalism, risk is more dangerous than ever because profit is supposed to show an immediate return. But this production reminded me that creativity and inspiration are our commodities. We must be faithful guardians of the purse, yes, but that can't have us lose sight of the possibilities that creativity can bring. We are a creative art form after all.
Yes, budgets must be adhered to. But all too often creative ideas are shut down with "we can't afford it." I challenge us all to ask instead, "What are we trying to accomplish artistically and how can we afford it?" To be even riskier, "How can we afford not to?"
Our world is full of creative designers and people who can bring that creativity to reality. I hope you find something that inspires you as much as this production inspired me. I want to create and explore in my own way because I saw the results of their work. That's the beauty of a life in the arts. We build upon the risk, beauty, and inspiration of others, each in our own way. What has inspired you to ask "Why not?" lately?