News & Notices
Ohio Community Theatre Association Conference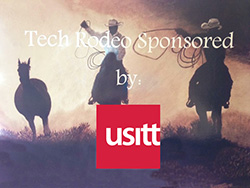 At this year's OCTA conference, USITT Board Member Elynmarie Kazle was there to represent USITT and the Ohio Valley Regional Section over Labor day weekend. Over 500 attendees came to the conference from over 100 theatres across the state. The USITT Ohio Valley Section receives a grant from the Margaret Clark Morgan Foundation to support technical theatre and performance theatre workshops.
"The education portion is really well developed, so the workshops were very high level," Elynmarie said.
Besides dozens of workshops, a highlight of the weekend were performances excerpted from shows. Each crew had about 40 to 45 minutes to do the whole performance including set up and take down. Awards were given for performance and technical efforts.
Attendees also participated in the USITT-sponsored Tech Rodeo.
"It's a nice downtime to just go and have fun with a bunch of people who do theatre. If you're a professional, it's a feel good thing, you learn and you can also share what you know," Elynmarie said. "If you're somebody who wants to continue to practice your craft but maybe you're no longer teaching or no longer traveling around, it's a great opportunity for you to give back, network, and do some of the projects that make you really feel good."