News & Notices
Member Spotlight: Jeff Bazemore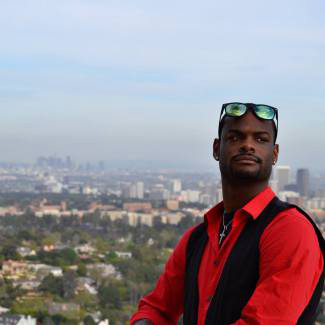 Jeff Bazemore, USITT Early Career Member and Props Master at the Philadelphia Theatre Company.
USITT: How did you get involved in theatre?
Jeff: I got started in high school, and I was an actor. I was a die-hard, active actor. It's what I wanted to do; I bonded best with those people. It was very much an environment that I really latched onto and enjoyed and really wanted to pursue. I went to Berea College in Kentucky for my undergrad, and I switched my focus from acting to technical. I've stuck with that since then.
Is that what led to your props career, your involvement in technical theatre?
Very much so. That is the door that opened and shaped me and made me who I am today.
What first attracted you to prop making?
I pursued acting in my undergrad, but Berea College is a work study college. All of the students have to have an on campus job. I wanted to get into a theatre job because I went to study theatre and I wanted to spend all of my time there. Shan Ayers, the scenic design professor and my advisor at the time, introduced me to props because I always enjoyed the technical and design elements of what was seen on stage. I wanted to get more involved with it. I was a carpenter I learned how to weld. I did some wood working, and then he introduced me to props.
How did you end up at the Philadelphia Theatre Company? What led to that?
Funny story; Roy Backes, the Director of Production at PTC and a USITT Member, knows Jeff Allen, the production manager at PCPA where I interned. They know each other from the Production Managers Forum. Jeff gave me a great recommendation which led to me being hired. My family is in Delaware, so it's really close to my family and it's an area that I know.
Can you tell me about your USITT experience?
My mentor, Shan is a big advocate for USITT. My freshman year was 2009, and he really preached about going to the Annual USITT Conference & Stage Expo. He was just overjoyed with getting students to this conference and the impact it would have on them. I was truly one of those people who went to my first USITT conference and was just blown away by everything I had not known and had never seen before. It was like an amusement park for technical theatre people! That opened the door for me to really want to stay with USITT, make connections, and get involved. Everything from then on, every internship or even job connection that I've gotten, has come through USITT.
What's the best piece of advice you've received so far as you entered the professional world?
A lot of people just tell me to be me. They tell me that I have a personality that gets along with anyone and it's a pleasure working with people. So, for me it's being positive, upbeat, energetic, likeable; it just makes people want to work with you. Having those characteristics really carries your name across the globe, and people will seek out and want to work with you and give you opportunities just by being yourself.
Do you have a prop that truly holds a special place in your heart?
We did Suzan-Lori Parks' The Death of the Last Black Man at Berea College and one of my big introductions to molding and casting was making a bunch of watermelons that lived on stage in all shapes and all sizes. As an early props person, my go-to was to buy actual watermelons. Not really understanding the creativity of what it means to recreate something, that's not practical. I got to do plaster casts with molding and casting. It was my introduction to say, "OK, this is what I want to pursue" because I thoroughly enjoyed every single process of it. It was one of the most fun projects I've worked on.
How have your internships shaped how you perform in your career now?
The internship I did dealt with a lot of students who also were interested in technical theatre, so it was understanding what level of expertise they were at and how you could cater to them to get a project done. It was very much being able to deal with your surroundings and knowing how to communicate with everyone directors, designers, your shop, your labor, your students, just anyone.
Any advice for future technical theatre graduates?
This is more of a generality of technical theatre, but I still consider myself very new, like nowhere near the experience of any other props master that I've met. It's just amazing where your name will take you and how roads and paths will cross in this industry. I've been very fortunate to do that, and USITT has very much been a gateway for me.
Suggest a USITT Member for the Spotlight!
If you know of USITT members whose work should be in the Spotlight, please feel free to suggest them. Contact Lynne Dundas at lynne@usitt.org.