News & Notices
Announcements
Texas Scenic Company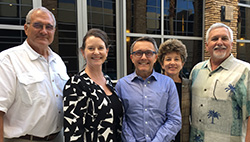 Texas Scenic Company (TSC) is proud to welcome Bronx-based stage equipment contractor Pook Diemont & Ohl, Inc (PDO) and variable acoustic banner manufacturer acouStaCorp LLC to its family of brands effective Nov. 1. Together the new firm will have established offices in San Antonio, Dallas, Houston, Washington DC, Atlanta, Boston, and New York City; forecasting expansion to Los Angeles. Transition teams have begun to integrate both companies' SOPs while onboarding employees, vendors, and industry partners.
LiNK
LiNK registration will be available onsite at the Crowne Plaza Hotel in Atlanta Nov. 11. LiNK provides prospective grad students in many different disciplines the opportunity to meet with top graduate programs and share their portfolio, resume, and have one on one interviews. More info here.
Mentoring
Gateway: The Gateway Program at the Conference & Stage Expo provides an opportunity for students from underrepresented populations within our industry to be paired with professional mentors from a similar background and career. These mentors will guide and maximize each mentee's experience at the Conference & Stage Expo. Nov. 25 is the deadline to nominate and submit applications. More info here.
Early Career Mentoring: The Early Career Mentoring program is for Early Career Members who plan to attend the USITT Conference & Stage Expo in St. Louis in March 2017. The Fellows of USITT have created this unique opportunity to establish a long-term relationship between the Mentor and Early Career Member. The deadline for applications is Jan. 30, 2017. More info here.
Awards
Wally Russell: The Wally Russell Mentoring Award seeks to honor someone who provides guidance, passion, and inspiration to young professionals. The deadline for submissions is Nov. 30. More info here.
Young Designer & Technician: The Awards for Young Designers & Technicians in the Performing Arts, also known as the YD&T Awards, bring recognition and support to young designers and technicians who are just starting their careers. The awards will be presented at USITT 2017. The deadline to nominate is Nov. 15. More info here.
USITT 2017 Conference
Poster Sessions: This is a great way to network, connect, and share information to expand on solutions to problems, discoveries, and more. The deadline to submit is Nov. 15. More info here.
Cover the Walls: Cover the Walls is a non-juried open invitational design exhibit. The purpose of the exhibit is to provide an opportunity for USITT members to share their design work with fellow theatre artists. The deadline to register is Feb. 1, 2017. More info here.