News & Notices
Last Word: Three Generations of Tech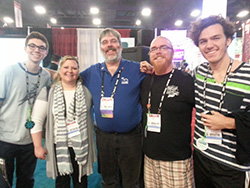 From generation to generation, connections ripple through the technical theatre world. The trickle-down of knowledge from academics, professors, professionals, and students has long been a lineage of tips, tricks, and design ideas. That is the case at least for USITT President Mark Shanda, husband and wife teaching duo Ben and Elizabeth Shurr, and their students Hunter and Ty.
"We both went to Ohio State University and had Mark Shanda as our professor," Ben said. "Our students are tech students, so it's actually three generations of technicians."
In 2014, Ben and his students were asked to speak at the Annual Conference & Stage Expo in Fort Worth.
"Everything came full circle there as my students were meeting our professors and they loved it," Ben said. "I tell them all the time you never know who you're going to meet."
Nurturing connections is not only inevitable in technical theatre, but can also serve as its lifeline.
"Networking is important for collaboration and having someone to go to if you don't know the answer," Elizabeth said. "Mark and my other professors really taught make how to hone my craft into teaching kids. It keeps theatre alive."
Education throughout these three generations of techs can be beneficial to both students as well as their teachers.
"I'm constantly learning and USITT is a place for me to go and learn from my peers and mentors," Ben said. "I know several students who have gone on to pursue technical theatre as a career and the people they meet are impressed that they've been a part of USITT and have met people like Mark."