News & Notices
Karen Maness and the Hidden Lives of Scenic Artists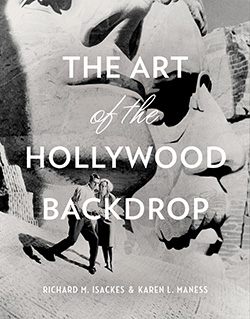 The lives of Hollywood backdrop scenic painters and designers have been overlooked for hundreds of years. Their meticulous detail and artistic credentials swept under the rug, until now. USITT Board Member Karen Maness' book The Art of the Hollywood Backdrop explores the lives of scenic painters who never received recognition for their work.
Karen's fiery passion for divulging these historic details took flight after an idea for a scenic artist session in Long Beach in 2011 during her time as commissioner.
"This book came into my life about 4 and a half years ago and it very much has to do with USITT," Karen said. "Without USITT I don't think the opportunity would have happened for the project."
Karen was able to connect with the president of the Art Director's Guild, Tom Walsh, as well as other scenic artists and things began to take off.
"After the session they approached me and said 'we have been looking for someone to write this book, and it's you!' and I was rather shocked," Karen said.
Because of Karen and her co-author Richard M. Isackes, the lives of many scenic artists have been brought to light.
"(I want to) get them recognized and help them have their rightful place in history and I feel very responsible to them all," Karen said. "I hope they've been served well in this book."
Karen's dedication to USITT and its members comes through in her reasoning for penning the picturesque book.
"I'm so delighted to share the book with our members, since it was born at the conference it's really meaningful for me," Karen said. "I would love to see the book bring about a renaissance in painting again, or film."
Karen will be at the 2017 Annual Conference & Stage Expo along with her book which will be for sale beginning Nov. 1, 2016.
"It's been an honor and I'm just really excited to share it with my USITT family," Karen said. "You guys have been part of my life for a long time and this institute has afforded me the opportunity to really grow on so many levels as a scholar, as a leader in a leadership position, and my work on the Board of Directors. To be part of these conversations as we shape the organization moving forward is exciting, but it's also a real honor to be able to serve our members. It's been great."