News & Notices
Fellows Induction at USITT 2017
Two new USITT Fellows will be inducted at the 57th USITT Annual Conference & Stage Expo. The induction will be held Wednesday as part of the morning Keynote events which begin at 9:30 a.m.
Meet our new inductees!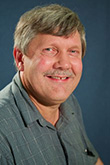 Rich Dunham is the epitome of the USITT member who deserves recognition for professional accomplishments and active, ongoing contributions to the work of the Institute.
His leadership of the Grants & Fellowships Committee has resulted in expansion of opportunities to serve our members. Rich's work as Chair of the triennial Art Auction has resulted in additional revenue to support Grants & Fellowships.
He is a superb leader able to organize important projects, and his work produces consistent results. He is recognized as a gifted lighting designer, professor, and head of design at the University of Georgia and author of a significant text and reference book, Stage Lighting: Fundamentals and Applications.
He has had a number of articles in TD&T, is an active contributor to USITT publications in a variety of ways, and is a recognized national judge for student awards. His professional accomplishments include on-going lighting design for a variety of regional theatre and opera companies.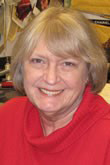 Judy Adamson represents the very best in costume technology in the United States today, and has a stellar reputation. Even with her long list of credits amassed during a lifetime of remarkable professional work on Broadway, for major motion pictures, at the Utah Shakespearean Festival, and PlayMakers Repertory Company (among others), she continues to work professionally as a draper and shares her extensive knowledge in the classroom.
She has been the costume director in the Department of Dramatic Art and head of the costume production program at the University of North Carolina at Chapel Hill since 1993. She holds the rank of professor of the practice, acknowledging her extraordinary professional experience. Before joining the faculty at UNC-Chapel Hill, she worked at Barbara Matera Ltd., beginning in 1980, gaining experience at one of the foremost costume houses in New York.
Judy is a tremendous asset to USITT, from the sessions she presents, to her costume project work, to her creation of the Barbara Matera Award for Costume Making. The visibility of costume technicians and their importance in the performing arts industry has been raised over the last 15 to 20 years due in large part to this brilliant, three-dimensional artist.