News & Notices
Lux Festival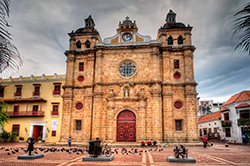 Creative mastermind, Tupac Martir, is partnering with USITT to bring an international video and projection mapping opportunity to USITT members, both student and professional.
The Lux Festival will take place from Jan. 4 to 8 in beautiful Cartagena, Colombia. Participants will submit a three to five-minute video that will become a three-dimensional piece of living art when projected onto the unique buildings of Cartagena. From these entries a number of pieces will be selected to be installed as part of the Festival of Light. USITT will cover housing and transportation costs to Cartagena for the top winners in each category.
"USITT is excited to partner with Tupac Martir and the Lux Festival," says USITT Executive Director David Grindle. "We are happy to offer our members the chance to show their work on the international stage and to get to work with someone like Tupac.
The deadline for submissions is Nov. 21, 2016.
Click here for more information and submission requirements.