News & Notices
Member Q&A: Jim Streeter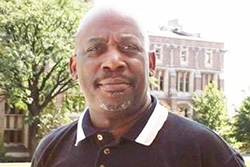 Jim Streeter is Production Manager at Princeton University's Frist Campus Center Film and Performance Theatre, a USITT Board Member, and the first Vice-Commissioner for Diversity on the Lighting Commission. He was among the 12 professional mentors for USITT's 2016 Gateway cohort. His mentee, Luis Garcia, was featured in September's Member Q&A.
USITT: Tell us about your role in USITT's Diversity & Inclusion Initiative.
Jim: I am proud of how our Institute has taken action to be a more diverse and welcoming organization to people of color, women, and the LBGTQI community. When I speak of diversity and inclusion, I'm talking about two different things. Diversity is the tool and inclusion is the goal. As an organization, we need those varied life experiences, and we need to embrace and celebrate our differences. We become a stronger organization because our foundation is broad and rich.
I want to help give every student, every young professional, every member that same feeling I have, that when we come to USITT, we are going to a place where we are all welcomed.
Please describe your experience with Gateway at USITT 2016?
I met my mentee, Luis Garcia, for the first time at the first Gateway meeting in Salt Lake City. We went to the Keynote and the Young Designers Forum, and he attended a number of the Lighting Commission meetings. One of the most important things we did was to review his portfolio prior to the Production Managers Forum review.
I was able to help Luis pare down his portfolio to what, as a production manager, I would want/need to see. I think we streamlined it, and I think he has a rock solid portfolio. I hope that the relationship continues because it will give Luis someone he can ask questions, seek advice from, and provide that safety valve when the early part of the career gets hectic.
Has Gateway influenced what mentoring means to you?
This is my second time as a mentor. I was one of the original mentors in Fort Worth in 2014. It took some convincing to get me to say yes (Thank you, Kasey Allee-Foreman), but once I did, I found it to be an incredible experience.
I think it's really important to see people who look like you in the profession you aspire to. Getting underrepresented young professionals to be able to interact with working professionals and being able to introduce them to people in our business is invaluable. I find the time I get to spend with these amazing people and watching their confident and engaged attitude, you can't put a price on that.
How does Gateway offer opportunities for growth beyond the Conference?
One of the things we stress during our meetings with the mentees is that this is a family. Our connection with the mentees doesn't end at Conference; it continues once we leave. As Gateway, we try to keep those relationships ongoing through Facebook and other social media. We also give them access to job postings they might otherwise not see. That's the biggest thing, to get the job postings in the hands of underrepresented professionals and students. That is how we can grow diversity and inclusion in our industry. We even introduce them to the Production Managers' Forum, a group of working professionals who hire production staff.
Anything else about Gateway you would tell someone considering participating?
I think it would be the best experience of your life.
Gateway nominations are open until Nov 25. Nominate here.
Suggest a USITT Member for the Spotlight!
If you know of USITT members whose work should be in the Spotlight, please feel free to suggest them. Contact Lynne Dundas at lynne@usitt.org.