Commissions
Engineering Commission Seeks Excellent Theses: Oct 15 Deadline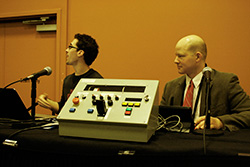 USITT's Engineering Commission wants to help recent graduates share their research in entertainment technology through its Excellence in Entertainment Technology Research program.
Those who have exhibited rigor, innovation, and creativity in their research are invited to submit their papers for consideration. "Excellent" theses should challenge or advance the industry and be focused on new technology, innovative applications, or deeper understanding and application of engineering principles to theatre.
Those selected will be invited to present their findings in an Engineering Commission session, "Excellence in Engineering Technology Research: Graduate Paper Presentation," at the 2017 USITT Annual Conference & Stage Expo in St. Louis and receive complimentary, full conference registration.
Thesis research must be focused on advancing understanding in an area of Entertainment Technology. Candidates must be nominated by a faculty member from the degree-granting institution.
The deadline for submitting nominations to Commissioner Kimberly Corbett Oates is Oct. 15. Contact Oates at koates@schulershook.com for more information.