News & Notices
Board Names New Mentee, Seeks Applicants for 2017-2018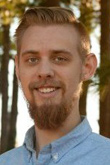 Tyler Hixson of St. Louis is the new USITT Board Mentee for 2016-17.  An early career member who earned his BFA in theatre administration from Millikin University in Illinois, he just finished a research project on board governance. Tyler works in digital marketing at a startup in St. Louis.
Previous mentees Deb Sherrer and Mary Jean Sedlock participated in their last Board of Directors meeting on May 20, where President Mark Shanda formally thanked them for their service and urged them to stay involved in USITT.
Applications for the next Board Mentorship position open on July 1 and will close on September 15.
Launched in 2014 to encourage emerging theatre professionals to be involved with the inner workings of a nonprofit board, the USITT Board Leadership/Mentorship Program involves members in the Institute's governance practices and strategy discussions.
The mentorship program, one of just a handful of its type in the country, provides access and practice for students and early career arts professionals. They gain valuable insights into volunteer leadership while serving on a nonprofit board of theatre professionals working in or studying design, technology and management.
The next mentee's term will run from the USITT 2017 in St. Louis, MO, in March through USITT 2018 in Fort Lauderdale, FL. Each mentee's term will overlap at the first conference with the previous mentee's and with the incoming mentee at the second conference. The mentee will also be paired with a board member/mentor for the year, and participate in at least two electronic and face-to-face meetings of the Board.
Mentees will serve as active members with one Board committee or special project, and will be a non-voting representative on the Board. In addition to the two conferences and e-board meetings, mentees are expected to attend and participate in the annual summer board retreat, often held at the site of the upcoming conference. Those chosen will have travel, hotel, and Conference fees covered by USITT and will receive a one-year Student or Early Career Membership. The total estimated program award per participant is $3,500.
The online application form can be found here.
For further details or questions, contact Sherry Wagner-Henry at sherry.wagner-henry@wisc.edu or Mallory Kay Nelson at mallory@usitt.org.