News & Notices
USITT Supplies Free Rigging Inspections to 11 School Stages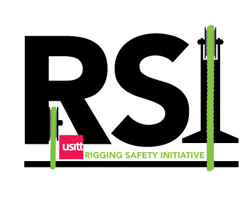 "We would like a full safety check and training for proper use of the system," wrote the school's drama club advisor.
Another school's theatre was built in 1968, and its date of last inspection was "none/unknown."
"We are a children's theatre only and want to be certain our theatre is safe for kids," one school wrote.
That's exactly what USITT supplies to student stages through its Rigging Safety Initiative (RSI). The Institute just approved free stage rigging inspections and safety training to 11 more schools for this spring:
Applause Theatrical School and Theatre Company, Houston, TX.
Burlington County Institute of Technology, Medford, NJ.
Chazy Central Rural School, Chazy, NY.
East Ridge High School, Woodbury, MN.
Elyria High School, Elyria, OH.
Fredonia Central School District, Fredonia, NY.
Greendale High School, Greendale, WI.
Liverpool High School, Liverpool, NY.
Soule Road Middle School, Liverpool, NY.
Walnut Hill School for the Arts, Natick, MA.
Wayland Union High School, Wayland, TX.
RSI invites applications from schools twice a year and tries to accept at least 10 schools each round. It is open to any secondary school in the nation.
USITT launched the RSI five years ago and has since accepted over 120 schools into the program. The schools get a free rigging inspection and safety training performed by USITT's partner rigging companies, which charge the Institute a reduced rate.
The RSI operates with sponsorship from JR Clancy, ETC, H&H Specialties, and Shepard Exposition Services as well as donations from individual supporters. The goal is to instill best stage safety practices at the high school level and prevent school rigging systems from going uninspected for years for lack of funding.
The next round of RSI applications are due November 16. Visit www.usitt.org/rsi for more info.