Conference & Stage Expo
Share Creativity at Tech Expo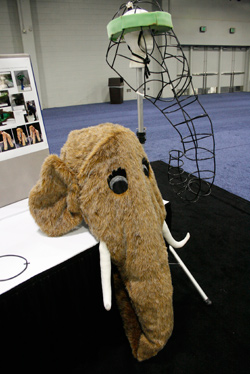 Share those production challenges at Tech Expo!
The 16th Biennial Tech Expo will be featured at the 2017 St. Louis Conference & Stage Expo in March.
Developed a unique device, process, tool or technique? Found a creative use for a new (or old) material others might find useful? The Tech Expo Committee invides Ideas from all facets of the entertainment industry: scenery, scenic art, costumes, properties, lighting, sound, stage management, etc. If it's a good idea, share it with peers.
Past exhibits have included polyurethane cold foam mask-making, a four phase moon box, and a traction drive system.
Tech Expo is a juried exhibition, and several of the accepted entries will receive special recognition and publication in TD&T. The application process is simple: put together an article of 500 to 1,000 words describing the entry. Send it, along with two or three drawings or photographs, and the application form in. Winning entrants will be asked to prepare an exhibit to be displayed at Stage Expo. The accompanying articles will be published in the 2017 Tech Expo Catalog.
The application form, submission instructions and an index of previous Tech Expo entries can be found at www.usittshow.com/tech-expo as of July 1.
The deadline for submission is October 14, so get those creative juices flowing. For more information, contact Tim Francis, Tech Expo Committee chair, at tfrancis@trinity.edu or 210-999-8586.