News & Notices
Nominate a 'Rising Star' by Aug. 15
USITT is seeking nominations for the 2017 Rising Star Award sponsored by LDI/Live Design. The award honors early career professional designers in lighting, sound, scenic, or projection for outstanding work in one or more of these fields.
The deadline is August 15, with portfolios to be submitted by September 15. Nominate here.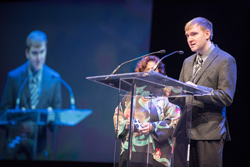 Nominees must be in the first four years of professional, non-academic work following completion of their highest degree.
The designer selected as the 2017 Rising Star will receive the award at USITT's 2017 Annual Conference & Stage Expo next March in St. Louis, MO.
Past Rising Stars include lighting designer Justin Townsend (2006), who received two 2016 Tony Award nominations for Best Lighting of a Musical for American Psycho and Best Lighting of a Play for The Humans, and won a 2015 Obie Award for Sustained Excellence in Lighting Design. Other Rising Star winners are sound designer Janie Bullard (2014), who assisted on Broadway's Hand to God, and projection designer Daniel Brodie (2011), whose Broadway credits include Motown The Musical.
"Rising Star singles out a designer who is demonstrating excellence early in their career," said USITT Executive Director David Grindle. "We feel this award is a predictor of future success, as it spotlights young professionals whose work is gaining notice in the area in which they practice."
LDI/Live Design supplies the $1,000 prize, and USITT offers free registration to USITT 2017 and a year's free membership.
"We really want to encourage professors and mentors to nominate young designers who are a few years out of school, and who have gotten a good start to their professional careers," states David Johnson, managing director for LDI/Live Design.
"The list of past winners is very impressive, and we are very proud of them all, as they have all met with success in their various disciplines. For us, the Rising Star Award is a great way to encourage the next generation of designers to excel."
View the list of past winners and nomination info at www.usitt.org/risingstar.