News & Notices
Member Spotlight: Victoria 'Toy' Deiorio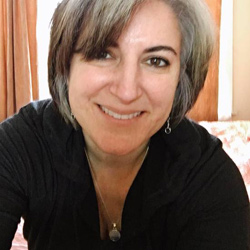 Victoria 'Toy' Deiorio, sound designer and composer, head of sound design at DePaul University in Chicago, owner of VictoriaSound Design, co-chair of the Executive Board of the Theatrical Sound Designers and Composers Association (TSDCA).
USITT: How did you discover theatre?
Toy: I started as a ballet dancer at age 5 and joined a regional ballet company in Central New York, at age 10. At age 14 I was on scholarship with the Joffrey Ballet in New York City. Expressing music through dance led me towards acting, so I decided to leave New York and go to college. I went to Syracuse University and majored in musical theatre, and studied classical acting at the Royal Academy of Dramatic Art and the London Academy of Music and Dramatic Art. After college I went to Chicago and acted for a while, then I became a massage therapist for sports medicine, including working with NBA greats like Michael Jordan and Magic Johnson.
Then I joined a rock & roll band and formed my own band ToyBand (playing acoustic guitar and singing), and Rivendell Theatre Ensemble (a company I helped found) asked me to design Holy Days, a play by Sally Nemeth that's set in the Dust Bowl days. It had all acoustic music … and when I started writing songs for theatre, I realized I was a good mimic. I found it easy to write music that evoked other musicians' styles, and that worked really great for theatre. Becoming a composer and sound designer was the exact mirror of my life as a ballet dancer. I went from being an expression of the music to now seeing something visually onstage and knowing instinctively what kind of music or sound would support it, with its pacing, its emotion, and so on.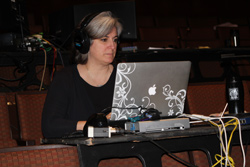 How did you choose sound design as a career?
It chose me. I actually tried to stop about five years in, but at the time I had just won my first Joseph Jefferson Award, two After Dark awards, and was a finalist for a NEA-TCG Career Development Grant. And I thought, 'OK, I can't stop.' I had assisted one designer and within a year I was in the Regional Theatre market. Assisting was good because I came to know what was expected of me, and then I knew I wanted to continue. Six years and a career later, I became the head of sound design at DePaul and built the department it is today eight years later.
With sound design, I understood that music fueled the emotional journey of the audience … and when I put all my lives together in one place, I had found the career that's most rewarding for me.
Did you encounter any difficulty as a woman in a mostly male discipline?
If I did have difficulty, I didn't realize it… I was young and looked young, and there were times when I walked into a union house and wasn't looked at as the authority, and I had to combat that. But I must say that men in the field have been amazingly supportive. One thing that bothers me is that I watched many male colleagues come from behind me and surpass me. USA829 recently did a study showing the wage disparity between men and women designers. Women had a feeling we were being paid less than men and we wondered if it was real, and that study confirmed it. But my male colleagues were equally shocked and supportive.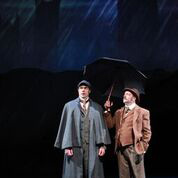 You've written about how technology is changing the industry...
Technology has given us ease in creating artistry, and that part is amazing. Where I'm seeing it change is in the collaborative process where others think they know what we do and that they can do it. It is easy to create a QLab file and put music into a show. But what you may miss if you don't have a sound designer is the thought that we give to the phenomenality of the sound: our understanding of how human beings feel when they hear it, the vibration and how it's perceived, how it goes into the body and develops into emotion, and the understanding of how to use music and sound to create a faster or slower pace to allow the audience to take a breath or to support the dialogue. There's so much to the artistic side of sound design that I don't think people appreciate.
How did you get involved in USITT?
The USITT Sound Commission asked me to be on a panel in Milwaukee (2013), and when I went I realized I really should be a member. And then I hosted a panel in Cincinnati (2015). The growth of the sound community at USITT is so lovely to see, and I value all their opinions so much. They have such a wide range of knowledge and expertise. And especially on the student level, the Conference offers a way to network and meet people across the nation at a time when we as sound designers are starting to band together, especially after the Tony Award was taken away from us. Networking is so important to the sound design community to help shape where the field is going.
Can you describe your design process?
Every show is different, it depends on the needs of the production, whether I'm writing the music, whether I'm part of the rehearsal process, and whether there's singing and dancing to it. I start with the script to determine, from a sound design point of view, what the themes are that the writer wants to convey, and how sound can affect that goal. Then when I meet with the director and creative team, that's the super-fun collaborative part, with all these artists in the room trying out ideas and thinking of ways to interpret the script.
It helps me to hear the actors at their first rehearsal, how they say the lines. I also research the time period and the style. I'm a designer who likes manipulating the emotions of an audience in a supportive way. For example, if we're revisiting an intellectual or emotional theme, I like to use reminder cues … but also to add something to convey that we're moving forward and are in a different place from where we started. And then I either find music or compose music to achieve those goals.
What's your next project?
I'm working on a book called The Art of Theatrical Sound Design: Shaping Emotions Through Sound and Music. It's a textbook, in a way. Bloomsbury Publishing in London will be publishing it.
When I built my department (at DePaul) I wanted a textbook that doesn't exist, so I'm writing it. It's divided into three parts: The first is about how people perceive sound, how it works in your body, how it impacts spatial awareness … The second part is comprised of exercises to help students build cues with intent, using sound to slow time, speed up time, etc. And the third part is how to be an artistic collaborator – how to break down a script and communicate in the collaborative process of going from the script through tech through opening night.
What advice do you give students who want to do what you do?
You have to really want to do it. It is a calling, in a sense. It's long hours and hard work, and the possibilities of having society's norm of evenings, weekends, and holidays off are less. Everything revolves around this art form, so you have to really want to do it. And secondly, don't worry about your career more than determining the type of art you want to create and how and where you want to express yourself, because every moment will build a life that's rewarding. It's about knowing your intentions and how you want to move forward, and not about comparing yourself or judging yourself as you go.
Suggest a USITT Member for the Spotlight!
If you know of USITT members whose work should be in the Spotlight, please feel free to suggest them. Contact Janet Gramza at janet@usitt.org.