News & Notices
Announcements
USITT: Special Award Noms Due July 15
The deadline for USITT members to nominate for 2017 Distinguished Achievement Awards and USITT Special Achievement Awards is July 15.
Distinguished Achievement Awards go to individuals whose careers have contributed to a specific field of performing arts design or technology. Special Achievement awards include the Joel E. Rubin Founder's Award, the USITT Award, and Special Citations, as well as the Thomas DeGaetani Award for an outstanding contributor to the arts in the area of the USITT Annual Conference & Stage Expo, which will be in St. Louis in 2017.
Learn more about & nominate for DAA and SAA awards at www.usitt.org/instituteawards.
USITT: Vincent to Finish Rigdon's Term
Kevin Rigdon's recent election to the position of USITT Vice-President for International Activities left his Board seat. President Mark Shanda asked Board Member Paul Vincent, whose elected term ends July 1, to continue serving out Rigdon's term, which continues through June 30, 2018. The Board approved this at its May meeting.
Routledge/Focal Press: Dance Chronicle Calls for Papers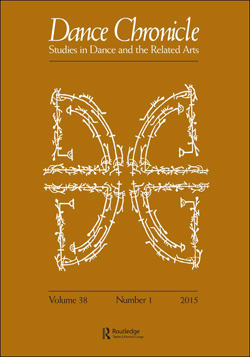 Dance Chronicle, published by Sustaining Member Routledge/Focal Press, seeks research submissions for a special issue themed "Kinetic, Mobile, and Modern: Dance and the Visual Arts." The issue will be edited by Joellen A. Meglin and Lynn Matluck Brooks.
"We want to explore the ways in which dance and the visual arts have intersected, converged, dialogued, and propelled one another forward, whether through felicitous collaboration or the unique visuo-spatial talent of an individual.
 
Find details and submission guidelines here.
TCG: Selects Portland for Next Conference
Theatre Communications Group will hold the 27th annual TCG National Conference in Portland, OR June 8 to 10, 2017.
Portland-area host theatres include Artists Repertory Theatre, Bag & Baggage Productions, Miracle Theatre Group, Oregon Children's Theatre, Oregon Shakespeare Festival, Portland Center Stage, Profile Theatre Company, Portland Playhouse, and Third Rail Repertory Theatre.
TSDCA: Board Holds First Annual Meeting
The Theatrical Sound Designers & Composers Association is a new professional membership organization formed after the Tony Awards eliminated sound design as an award category in June 2014.
Victoria "Toy" Deiorio, a Chicago-based sound designer, and co-chair, Lindsay Jones, are USITT members. TSDCA's 20-member executive board held its first annual meeting June 4 to 6, in New York City. Visit www.tsdca.org for more information.
LRLR: Completes 13th annual Charity Ride
The Long Reach Long Riders 2016 charity ride, dubbed The Radioactive Ride by ride marshal Loren Schreiber, raised over $45,000 for Behind the Scenes and Broadway Cares/Equity Fights AIDS, bringing the total raised since the LRLR rides began to over $550,000.
The ride, which began and ended in Las Cruces, New Mexico, featured an ever-changing terrain as they traveled through arid desert, vast treeless plains, alpine meadows, and mountain forests. Please visit www.lrlr.org for more information.