Transitions
USITT: Honesty Named Assistant Professor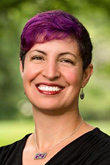 Tammy Honesty, USITT Board Member and Conference Programming Coordinator, has accepted a position as an Assistant Professor of Scenic Design at Kent State University School of Theatre & Dance.
Tammy earned her MFA in Scene Design at West Virginia University and her BA in Theatre at Wilmington College of Ohio. She is a proud member of USA Local 829 and continues to freelance at regional theatres and universities. Her professional career has included being a scenic artist for a variety of scenic studios, designing theatre for young audiences, and teaching.
Rose Brand: Casey to Offer Technical Expertise in Orlando
Bob Casey, entertainment industry veteran, has joined Contributing Member Rose Brand in its new Florida location to provide technical theatre expertise to the Swag Decor and Rose Brand customer base. Swag Decor was recently acquired by Rose Brand.
Meyer Sound: Willcox, Rivera, Manzo Expand Sales Team
Contributing Member Meyer Sound recently hired Andy Willcox, Daniel Rivera, and Antonio Manzo to strengthen its worldwide sales team.
Willcox is sales manager-residential systems; Rivera is sales specialist-house of worship market, and Manzo is heading the sales team in Mexico.
Vectorworks: Acquires PanzerCAD, New Engineer
PanzerCAD's Founder and Developer Matt Panzer will join Vectorworks' engineering team as an architectural product planner. Sustaining Member, Vectorworks, Inc., recently acquired PanzerCAD's plug-in tools.
Sapsis Rigging: Names Marketing Director, Sales Manager
Johanna Morriss is the new marketing director for Sustaining Member Sapsis Rigging.
Scott Price is SRI's new sales manager.