News & Notices
Institute Award Nominations Open Until July 15
It's time again for USITT members to honor their peers as the Institute's awards season opens June 1.
The deadline to nominate deserving members for the 2017 Distinguished Achievers and for any of USITT's five Special Achievement Awards is July 15.
Distinguished Achievement Awards
Recipients of Distinguished Achievement awards have established an exemplary body of work or contribution to a specific field of design or technology throughout their career. The nominees do not have to be USITT members.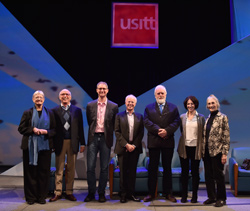 These awards usually fall under one or more of the disciplines represented by the Commissions: Sound Design & Technology, Lighting Design & Technology, Scene Design & Technology, Costume Design & Technology, Education, Safety & Health, Architecture, and Management.
To propose a nominee, contact the appropriate commission. The Commissions will honor recipients at the Annual Conference & Stage Expo. Review the 2016 winners here.
Special Achievement Awards
USITT offers five Special Achievement Awards. Nominations are open June 1 to July 15.
The USITT Award, the Institute's highest honor, recognizes a lifetime of outstanding contribution to the performing arts or entertainment community.
The Joel E. Rubin Founder's Award recognizes remarkable and continued service to the Institute.
The Honorary Lifetime Member Award bestows free lifetime membership to select individuals who have devoted much of their lives to USITT.
The Thomas DeGaetani Award – the one special award given every year -- honors an important contributor to the arts in the vicinity of the that year's Annual Conference & Stage Expo. Nominees for the 2017 DeGaetani Award should belong to the St. Louis area arts community.
Special Citations may also be given to an individual or organization for outstanding achievement in any of the performing arts
Nominate here for 2017 USITT Special Achievement Awards. The Awards and Resolutions Committee selects the award candidates which must be approved by the Board of Directors.
Anyone with questions, may contact Jenny Kenyon, Awards and Resolutions Committee Chair, at jenkenyon@aol.com.