News Releases from
Our Industry Members
Meyer Sound: Enhances Carey European Tour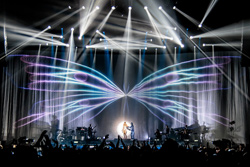 Contributing Member Meyer Sound's LEO linear, large-scale sound reinforcement system helped R&B diva Mariah Carey pack A-level arenas across Europe recently. The powerful and transparent system clearly delivered Carey's five-octave range and soaring, melismatic vocal style to every seat without the use of delays.
PRG XL Video: Lights Cathedral Blue for World Autism Awareness
To mark World Autism Awareness Day April 2, Contributing Member PRG XL Video partnered with The Jigsaw Trust to light Guildford Cathedral in the United Kingdom blue for the "Light It Up Blue" campaign.
From the March 31 to April 4, the night-time floodlights which accentuate the building were changed from orange to blue – the signature color of the Autism Awareness campaign.
J.R. Clancy: To Manufacture, Sell Arbor Equipment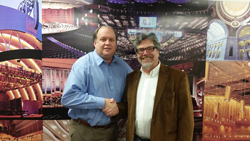 Contributing Member J.R. Clancy recently signed a license agreement to manufacture and sell Grid Well Inc.'s patented Front-Loading Arbor, its patent pending safety device the Arbor Trap, and the SuperArbor.
By licensing the Front-Loading Arbor and Trap, Clancy takes the lead in the first major retooling of counterweight rigging in more than 100 years.
Stagecraft Institute of Las Vegas: Starts 10th Year
The 10th annual summer session of Sustaining Member Stagecraft Institute of Las Vegas launches June 5. There are now 787 SILV alumni from 49 states and 47 countries. SILV 2016 broadens its base with a Seal of Qualification in SFX this season. To keep up with the future, subscribe to the SILV newsletter at stagecraftinstitute.com.
GLP: Fourleaf Takes Over Distribution in Japan
Sustaining Member GLP has appointed Fourleaf Inc. to handle its market leading LED and discharge lighting fixtures in Japan.
With concert touring forming GLP's key market, Fourleaf has already aggressively targeted the local rental market with the entire impression X4 series of products, and the X4 Bar 20 starting to take off.
Chauvet: Nexus Aq Creates Eye Candy At Coachella
Norwegian band Lemaitre's performance at this year's Coachella Valley Music and Arts Festival in Indio, CA, included a mesmerizing lightshow that used Sustaining Member Chauvet's Professional Nexus Aq 5x5 LED panel to create sizzling, pixel mapped eye candy.
Theatre Projects Consultants: Aids Ford Theatre Makeover
Sustaining Member Theatre Projects Consultants is winding up a project that is breathing new life into the 100-year-old John Anson Ford Theatre, a 1,200-seat amphitheater carved into the Hollywood Hills.
Due to reopen this summer following a $63 million renovation, the theatre's extensive changes include a remodeled backstage area, new sound wall, and enhanced lighting positions with equipment from ETC.
4 Wall Entertainment Lighting: Purchases Shadowstone
Supporting Member 4Wall Entertainment Lighting has reached an agreement to acquire Shadowstone Inc.
Shadowstone's rental division, which has experienced rapid growth in recent years, supplied lighting and electrical equipment to major motion pictures and TV productions nationwide including Law & Order SVU, The Blacklist, Gotham, Boardwalk Empire, The Amazing Spider Man 2, Black Mass, and Tower Heist.
H&H Specialties: Sends Six Students to USITT '16
Every year, six lucky USITT student members have their very early registration fees reimbursed by Contributing Member H&H Specialties. At the deadline, USITT draws six random names to receive the scholarships as part of H&H's commitment to supporting emerging artists and technicians in the industry.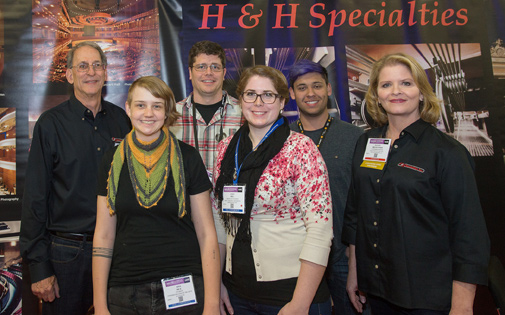 ETC: Becomes ESTA Visionary Investor
Contributing Member ETC has stepped up its support and participation in ESTA's Technical Standards Program by becoming a Visionary Level Investor in Innovation with a pledge of $10,000 for each of the next five years.
Terry presented a check for the first installment of the pledge at USITT 2016 in Salt Lake City.