News & Notices
USITT, Friends Celebrate #RigSafe Day
USITT and many of its members celebrated Arbor Day as an international day of backstage safety, taking to social media with the hashtag #RigSafe to share rigging safety information.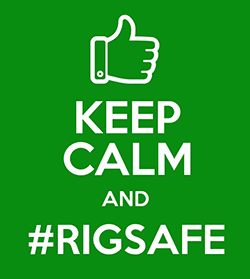 USITT shared photos and memes about its Rigging Safety Initiative, the only program offering free inspections to secondary school stages across America, and the Jay O. Glerum Rigging Masterclasses taking place in Denver June 13-14.
ETC, CM Entertainment, and IA Stage all posted rigging safety tips throughout the day. Rose Brand, Wenger/JR Clancy, and iWeiss shared photos and reminders. Schuler Shook posted photos of careless rigging that could have resulted in accidents.
There were some helpful blog posts including Wenger's Your Performance Partners blog, IA Stage, and Studio T+L. Many other organizational and individual members shared and tweeted about #RigSafe Day.
Besides those mentioned, USITT thanks the following organizations for participating in #RigSafe Day: TomCat, ProTapes, American Theatre magazine, Wenger Musson Theatrical, Point Source Audio, Clearwing, Stage Directions Magazine, ESTA, Propared, Stage Jobs Pro, OffStage Jobs, the Stage Management Association, Technologies for Worship magazine, and Sight & Sound Theatres.
USITT hopes to continue #RigSafe Day as an annual Arbor Day activity. Arbor Day falls on April 28 next year!
Meanwhile, find more information on USITT's rigging safety programs at www.usitt.org/rigsafe.