News & Notices
Carnegie Mellon University Establishes Tayneshia Jefferson Stage Management Award
Carnegie Mellon School of Drama has established the Tayneshia Jefferson Award for Excellence in Stage Management, which was given for the first time in April 2016. The award is named for the late USITT Board Member, mentor, and stage manager Tayneshia Jefferson.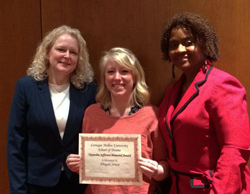 The award was funded by many people who loved Tayneshia and whose lives were touched by hers, both at CMU and across the country. The recipient of the first award was Abagail Sorese, third-year MFA student in Stage and Production Management. Abagail is a worthy recipient of this award: at CMU she modeled superior work in both class and productions, and her positivity and humor made her a leader in the School of Drama. In addition, Abby has been active in USITT through the SMMP and her work in the Conference Office during USITT 2016 in addition to her presence on panels and in the Event Hall. We know Tayneshia would approve!
Tayneshia Jefferson graduated from the University of Texas in Theatre and the MFA program in Stage Management at the University of Delaware. Although her career took her to many organizations in many cities, Tayneshia's heart was in her work with USITT. She was a force of nature in the Institute's Stage Management Mentor Project, its People of Color Network, and indeed any place people gathered for support and networking. She was elected to the Board of Directors in 2012 and was an early part of the Institute's diversity efforts, which have since blossomed into the Gateway Mentorship Program and the scholarships which bear her name.
We at CMU were blessed to have Tayneshia join our faculty in 2012. Although we mourn her sudden passing in July 2013, Tayneshia will never be forgotten, for her drive, for her encouragement, and for her hearty laugh, which we will always hear cascading down our hallways. The creation of this award through the contributions of friends and family in Pittsburgh and across the country ensures her spirit will always be alive at Carnegie Mellon. Thanks to all who helped make this award a reality.
For more information about how to contribute to the Tayneshia Jefferson Award, please contact Tina Shackleford at tshackleford@cmu.edu.