News & Notices
"Do it!" -- How RSI Made One School Stage Safer
Thanks to support from sponsors and participating inspection providers, USITT's Rigging Safety Initiative has been making schools safer one stage at a time for five years.
More than 100 schools have been accepted into the program, which provides free rigging inspections and safety training for secondary school stages.
How does it work? USITT asked one school to share its experience. Fort Atkinson High School in Fort Atkinson, WI, recently had its free inspection and training. John Collins, managing director for the school's theatre, answered our questions.
USITT: What is your role and how did you find out about the Rigging Safety Initiative?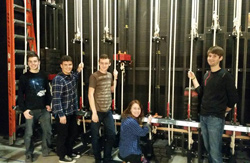 Collins: I am responsible for the care, scheduling, and maintenance of our school's 598-seat proscenium theatre. Truthfully, I found out about the RSI program through Facebook! One of my friends thought I might be interested and shared it on my wall. I checked it out, and it sounded like a great program. My administration is very supportive of grant opportunities, and therefore, I was able to easily get their approval and submit my application.
Please describe the application process?
I applied first in the fall of 2014. Unfortunately, we were not selected that round, so I decided to strengthen my application. I took a little more time to write out the situation for our space and included pictures, too. I was selected right after I sent in the second application.
We are very lucky to be close to the Wisconsin office of (USITT participating partner) Clearwing Productions, and they had been our supplier for expendables and equipment. The sales guys there put me in touch with the rigging folks, and they were excited to come and do the inspection. They were able to squeeze us into their schedule in a way that worked great.
How did the inspection work?
Two technicians from Clearwing came to my school and spent the entire day in my theatre. They were extremely knowledgeable and took their time to really look at every single detail of our system. Our school was built in 1997, and as far as my records show, this was the first time since the original install that any sort of inspection had been done. The technicians were able to show me a few of areas of concern. Thankfully, we didn't have any immediate safety issues.
There were a couple items which were a little higher priority. The list of things they found was as follows:
Replace the lift lines that are kinked or otherwise damaged
Add idlers or swag bars to prevent the lift lines from becoming caught on the loft blocks
Service the motors
Replace the leaking loft blocks
Replace the head blocks
Re-tension the operating lines so the tension blocks sit correctly
Properly install hardware for the speaker rigging.
The best part for me was that they included pictures of each of these items. I totally get the importance of these repairs/fixes, and it's a priority for me. However, it's always valuable for me to have data to show my administration team when I am explaining why I am asking for a $20,000 repair to be put in my budget in five years. Having those pictures along with the in-depth descriptions for each of these points is super helpful. It allows me to visually show them the issues without going up to our grid on a lift.
How about the safety training?
Our trainer was Jill Maurer, who is a systems design engineer, CTS, ETCP-certified theatre rigger with Clearwing. She was fun and interactive and had tons of experience which made her very knowledgeable. She travelled right to our school and held around three hours of training for some students, staff, and administrators. Jill allowed the students to ask questions, get involved with the training, and learn hands-on. A few of our students are looking to pursue careers in technical theatre, and she took time to talk to them afterward about cool experiences, advice, and tricks of the trade. Jill made sure to cover every aspect of our rigging system. (We have counterweight, winches for electrics, and a couple dead-hung battens.) She also took a few minutes to cover other systems which were not found in our space, just in case any of our students were to experience them in the future.
Did the inspection cost the school anything?
The inspection did not cost us anything. We just got our report this week and have a couple meetings planned with district maintenance and administration to discuss a) follow-up based on recommendations made in the report and b) care and maintenance moving forward.
What would you tell another school about the RSI?
Do it!! Especially for us, working with an awesome team from Clearwing, it was absolutely worth it. Not only did we receive a complete 10-page report, but it opened conversations inside our district and outside in a positive way. Jill gave us her contact information and invited us to email her or call her if we had any questions or concerns. Having a resource like that is so valuable for us. It also gave us all peace of mind, knowing that our system was operating safely and smoothly. Most importantly, it allowed for an educational opportunity for the students.
The RSI is made possible through donations from our sponsors and members like you. Make a gift to the RSI at www.usitt.org/rigsafe.