News & Notices
Buffalo State Team Wins Renovation Challenge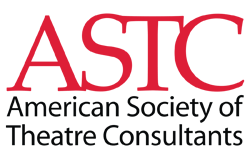 Of the three teams that presented their projects for the 2016 ASTC-USITT Renovation Challenge, KelseyLiz Habla and Charles Canfield from the State University of New York at Buffalo came out with top honors.
They received their prize March 18 at the 2016 Annual Conference & Stage Expo in Salt Lake City.
Habla and Canfield, undergraduate architecture students, earned the $750 Honor Award for their adaptive-reuse project for the historic Cyclorama Building in Buffalo. The plan was to transform the building, which currently houses an accounting firm, into a new indoor home for Shakespeare in Delaware Park.  Steven Friedlander was theatre consultant mentor and Jon Shimon was faculty advisor.
The Merit Award was given to Nick Saiki, Adam Crowell, Andrew Diamond, and Jeremy Dominik of the University of Cincinnati - College Conservatory of Music for their comprehensive renovation proposal for the Patricia Corbett Theatre.  Their theatre consultant mentor was Paul G. Sanow, and their faculty advisor was Stirling S. Shelton.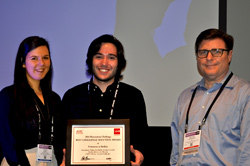 Mitchell Cramond, third year MFA candidate at the Yale School of Drama, proposed an adaptive-reuse project renovating the Yonkers/Genwood power plant into a multi-venue educational and performing arts facility.  His team members included Michael Hsu and Spencer Hardy.  Their theatre consultant mentor was Gene Leitermann, and their faculty advisor was Matt Welander.
The Renovation Challenge engages undergraduate and graduate students in real world theatre renovation problem solving.  Students work under the guidance of a faculty advisor and a mentor from the ASTC.   Each team selects an existing venue, develops a scope of work for improvements, and presents their ideas to a live audience and jury of ASTC members at a USITT Conference Session.
Mike McMackin, FASTC, chaired the Renovation Challenge. Jurors were K. Paul Luntsford, Heather McAvoy,  and Robert Smulling, ASTC.
The deadline to apply for the  Challenge to be presented at USITT 2017 in Saint Louis, MO, is Oct. 31. Applications are available on the ASTC Website at theatreconsultants.org.   For information contact Michael McMackin at mmcmackin@auerbachconsultants.com.