News & Notices
Seeking Brockett Golden Pen Nominees
Nominations are now open for USITT's top publications award, the 2017 Oscar G. Brockett Golden Pen Award. Nominations are open through Aug. 15 at www.usitt.org/goldenpen.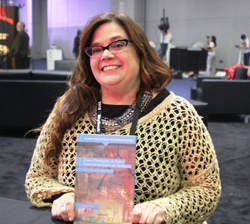 The award recognizes an outstanding book-length publication in the field of design and production for the performing arts. The award comes with a cash prize, complimentary Conference registration, and two nights' hotel stay at USITT 2017 in St. Louis, MO. The winner will be honored with a special session and book-signing at the Conference.
Established in 1986, the award was renamed last year for scenic designer, author, and scholar Oscar G. Brockett. The cash award was added thanks to a partnership with the Oscar G. Brockett Center for Theatre History and Criticism at the University of Texas at Austin.
A scene design book Brockett co-authored Making the Scene: A History of Stage Design and Technology in Europe and the United States, won the 2010 Golden Pen just a few months before his death.
Nominated books must have been published within the past three years and exhibit outstanding scholarly research, presentation of the work and methodology of exceptional design and technology practitioners, or descriptions of the methods, skills, and technology involved in creating works of theatre.
This year's Golden Pen winner was Arnold Aronson, author Ming Cho Lee: A Life in Design. Previous winners include Christen Essin (2015) for Stage Designers in Early Twentieth-Century America, Eric Fielding and Peter McKinnon (2014) for World Scenography 1975-1990, and Richard Pilbrow (2013) for A Theatre Project.