News & Notices
Broadway Black's Reign Speaks to People of Color Network
April Reign is a champion of diversity and inclusion in theatre and managing editor of the website Broadway Black. But when she invented the hashtag #OscarsSoWhite in 2015, she was just a movie buff lounging on her couch watching the Academy Award nominations.
When she realized there were no directors or actors of color on the list, Reign grabbed her phone and tweeted, "#OscarsSoWhite they asked to touch my hair."
Her sarcastic barb went viral as people protested the lack of diversity in the 2015 Oscar noms. The Academy tried to characterize it as a fluke, but this year, when it released another all-white slate of 2016 nominees, #OscarsSoWhite became a movement.
The outcry led the Academy to take steps toward positive change, largely thanks to the outcry Reign set in motion.
At USITT 2016 in Salt Lake City, Reign told USITT's People of Color Network that anyone can do what she did.
"I don't have anything special going on," she said. "But now the Oscars are making changes because some chick in her pajamas … decided to raise her voice."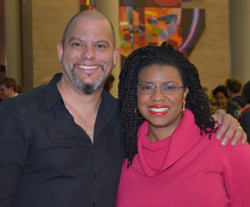 Reign was the featured speaker at the PoCN session chaired by USITT Management Commissioner David "Dstew" Stewart March 16 in Salt Lake City.
Reign said she and USITT share the goals of making theatre more inclusive to marginalized groups. She thanked USITT Executive Director David Grindle and the USITT board for responding to her request to participate in the Conference.
"I got a press release about USITT's diversity efforts that said, 'Would you like to promote this on Broadway Black?'" she said. "And I said, 'Not only would I like to promote it, I'd like to attend it!' And USITT and David Grindle were very generous in allowing me to be here."
Reign was a lawyer and writer tweeting about her passion for equality and inclusivity when her friend, Andrew Shade, started Broadway Black a few years ago. Shade was trying to fill a void in reporting on the achievements of African-Americans on and off the Broadway stage, "like Norman Lewis being the first black Phantom of the Opera, and Taye Diggs being the one and only black Hedwig," she said.
Shade was single-handedly curating the site until Reign told him, "Well, I write." Last year, they were able to cover the Tony Awards, including the red carpet. Broadway Black has since been named one of the top 15 sites on #BlackTwitter.
Reign has become a voice for the marginalized community. She told the PoCN gathering, "This is the People of Color Network, and I'm down with that, but I talk about everyone. It's not just a race thing. We need to talk about indigenous communities and disabled people and a lot of different communities."
She said she believes that exclusion from the story "starts on the page," in terms of choosing content that only reflects white culture. "But," she said, "I don't know why those who make the decisions on what gets produced don't just consider what the people on the stage or screen look like, but also whose stories get told. If it's only the 50-year-old white man whose story gets told, there is so much beauty and context and experience you'll miss by only telling one story."
In response to questions, Reign and Stewart advised students to go to decision makers and urge them to reach out to marginalized communities in their casting and hiring. Stewart said the man who hired him as production manager at the Guthrie Theater, Artistic Director Joseph Haj, has made a rule that none of the theatre's design teams can be "homogenous. There has to be a plurality of voices," he said.
When asked about how to enlist allies in achieving such goals, Reign said she doesn't like the word "allies," because, to her, it means support but not action.
"I use the word 'accomplices,'" she said. "I don't need the white privileged person standing by my side; I need you standing in front of me and maybe taking the blow, so I can come through unscathed."
"Find your allies and your accomplices," she told one student. "Your allies are your fellow angry black students seeking inclusion. Your accomplices are the people in power who can actually get things done."