News & Notices
Announcements
USITT: Bellman Archives of TD&T Now Searchable!
The Willard Bellman Archives of Theatrical Design & Technology journal have been under renovation for the past few months due to some technology issues. We are happy to announce that the archive is back up, running, and now complete. The digital archive contains all 50 years of TD&T and is fully searchable.
Within each digital issue, users can search using keywords in that issue or across all 50 years.
The archive is currently available to the public. On July 1, it becomes a member only benefit and members will need to log in to www.usitt.org to access it.
Thanks go to David Rodger of Broadway Press and Angela Brady of Hickman Brady for their work to get this enhanced archive up and useable for the membership. Access the Bellman Archives here.
USITT: Jaen Receives Lifetime Achievement Honors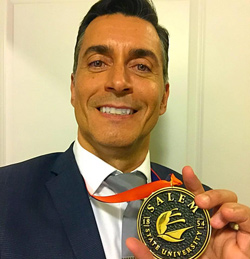 USITT Board Member Rafael Jaen received the 2016 Lifetime Achievement in the Arts Award from Salem State University, as part of its annual Creativity Awards May 10.  Jaen is a costume designer, professor, and author with 30 years of experience in film, TV, and theatre. Among his many accolades are the Elliot Norton Award and the IRNE Award. He is the national design, technology, and management chair for the Kennedy Center American College Theater Festival (KCACTF) and the USITT-KCACTF communications liaison.
USITT: TD&T Looking for Book Review Editor
TD&T is accepting applications for book review editor through June 15. Responsibilities include commissioning reviews of books related to theatrical design and technology, vetting and editing all submissions, developing and maintaining relationships with publishing companies, and obtaining texts for review. TD&T publishes four issues annually, with a book review column in each issue.
The book review editor holds a three-year term ending June 2019 and serves as a member of the TD&T editorial board.
Send a cover letter detailing qualifications and interest, a current CV, and a list of references to TD&T Editor Eileen Curley at: TDTeditor@usitt.org
USITT: TD&T Seeks Submissions
Theatre Design & Technology is looking for articles that seek to advance understanding of contemporary and historical theatrical design and technology for upcoming issues. The deadline for the summer issue is June 15 and for the fall issue, Oct. 1. Article proposals or completed articles can be sent to TD&T Editor Eileen Curley at TDTeditor@usitt.org.
Inquiries from potential book reviewers as well as from authors seeking to have their work reviewed are also welcome. Check complete author guidelines for details.
NATEAC: Dinner to Benefit BTS
The North American Theatre Engineering and Architecture Conference's dinner will be held as a charity event to benefit Behind the Scenes.
NATEAC takes place at the Roosevelt Hotel in New York City on July 17 and 18. Details for the conference and dinner can be found here.
ESTA: Four Standards Approved, Published
Four ESTA standards were approved last month by the American National Standards Institute's Board of Standards Review–two brand-new, safety-related documents and two control protocol reaffirmations.
The standards are:
ANSI E1.46 – 2016, Standard for the Prevention of Falls from Theatrical Stages and Raised Performance Platforms
ANSI E1.43 - 2016, Entertainment Technology—Performer Flying Systems
ANSI E1.30-1 - 2010 (R2016), EPI 23, Device Identification Subdevice
ANSI E1.3 - 2001 (R2016), Entertainment Technology—Lighting Control Systems - 0 to 10 V Analog Control Specification
These and all of ESTA's published standards are available for free download to everyone, courtesy of ProSight Specialty Insurance, at tsp.esta.org/freestandards, or they may be purchased from ANSI or IHS.