News From OISTAT
World Stage Design 2017 Exhibition and Scenofest Submissions Open June 15- Sept. 15, 2016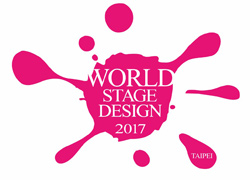 World Stage Design 2017 is an opportunity to be part of a celebration of international performance design from the world of theatre, opera and dance as well as public performances and installations in non theatre spaces. The WSD2017 Exhibition in Taiwan in July 2017 is open to all individual designers in Performance, Space, Set, Sound, Costume, Lighting, Projection and Multimedia Design. Projects from Emerging Designers and Professional Designers are both welcomed.
Would you like to bring your performance to WSD 2017? The Scenofest calls for submissions that emphasize the approach of design as performance and offer an inspirational combination of international and local thoughts.
The upcoming WSD2017 Exhibition and Scenofest will be hosted at the campus of Taipei National University of the Arts (TNUA), Taipei, Taiwan, by OISTAT Taiwanese Centre, Taiwan Association of Theatre Technology (TATT), on July 1st – July 9th, 2017. Don't miss the chance to participate in this exciting festival! More info on WSD2017 is at www.wsd2017.com.
To see more OISTAT news, including reports on its Costume Design and Space Design presentations at USITT 2016 in Salt Lake, click here.