Transitions
Vectorworks: Names Sarkar New CEO

Sustaining Member Vectorworks, Inc. recently appointed Biplab Sarkar CEO. Prior to his new appointment, Sarkar served as Vectorworks' chief technology officer for eight years and as geometry manager before that. He also worked for ICEM Systems, Intergraph, and Parametric Technology Corporation. Sarkar earned a Ph.D. in CAD and an M.S. in mechanical engineering at The Ohio State University, and a B.Tech. in mechanical engineering from the Indian Institute of Technology, Khargpur, India.
Rose Brand: Alemany Joins as Product Director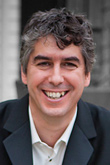 Joshua Alemany, a long time veteran of theatre production and the entertainment industry, has joined Contributing Member Rose Brand as director of products. 
Alemany started as a technical director and production manager in New York City and regional theatres. Since 1994, he has led product teams at Rosco Laboratories and was the driving force behind such products as Foamcoat, Tough Prime, Flamex, and Vivid FX. 
GLP: Smith to Head New UK Operation
Sustaining Member GLP is further expanding its global outreach by setting up a dedicated United Kingdom base outside Exeter and headed by Noel "Roly" Smith.
A stage and theatre production specialist, Smith has been intrigued by the evolution of lighting as it went through the various stages of automation in the late '80s and gradually moved into the rental side  of lighting before becoming a touring production professional.