News & Notices
Exhibits Meet PQ15 Challenges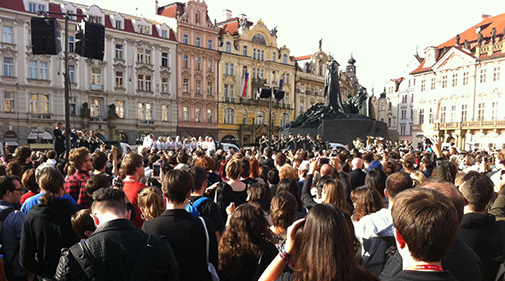 The USITT PQ USA 2015 teams that brought national and student exhibitions to the Prague Quadrennial faced new challenges, including 14 venues in and around the Old Town of Prague. Designed by award winning designer Klara Zieglerova, the U.S. national exhibit was housed in St. Ann's Church. Veronika Vorel designed the sound and Ian Garrett coordinated the digital aspects. Paul Brunner of Indiana University was exhibit project coordinator.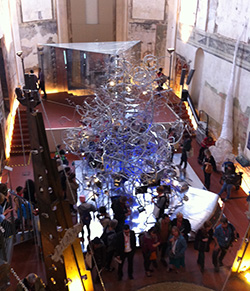 The national exhibit's design work was curated by Kevin Rigdon, Carrie Robbins, and Tony Walton with Marketa Fantova as artistic director.
Tighter spaces and working in historically protected UNESCO World Heritage sites created installation demands that required careful planning. Students from Indiana University not only physically built the national exhibition but also served as managers: assistant designers, TD, ATD, and electrics, props and soft goods coordinators.
After two setup rehearsals in the U.S. the exhibitions were installed well ahead of schedule with few surprises. Student ATD Bradley Shaw said the toughest part of the process was getting the exhibitions to Prague.
The Indiana University student team also included TD Sandy Everett, assistant designers Kristen Martino and Bridgette Dreher, carpenters and electricians Aaron Bowersox and Katie Gruenhagan, carpenter Carrie Barton, and Kelsey Nichols, who assisted with scenery, props, and soft goods.
St. Ann's Church also housed exhibits from Romania, Sweden, Peru, Hungary, Slovakia, Croatia, Japan, Lebanon, and Bulgaria
The student exhibition, Transcend: The Designer as Creator, was designed by Tyler Kinney, a recent graduate of Emerson College; Joe Klug, an MFA student from the University of Illinois Urbana-Champagne; John Mitchell, an undergraduate from Dixie State University; and Jenna Moran, a BFA student from DePaul University. Tom Burch, a regional theatre designer and assistant professor of scene design at Ithaca College, and Meghan Raham, an award winning set and costume designer now teaching at American University, were the student exhibition mentors.
Information about the U.S. installations can be found on the PQ website. Vortex of Our Dreams will be installed at the Salt Lake City 2016 USITT Annual Conference & Stage Expo.