News & Notices
OISTAT Technology Recap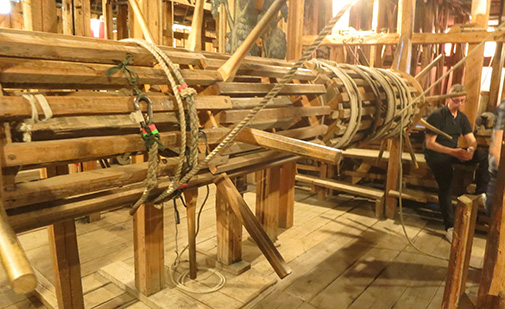 The OISTAT Technology Commission (TC) met in Stockholm, Sweden from June 4 to 8, 2015. All USITT members are members of OISTAT and welcome to attend meetings like the Technology Commission and other commissions. A list of upcoming events can be found at www.oistat.org.
The Technology Commission was hosted by the Swedish Technical Theater Association, STTF. The event was extremely well planned, tightly packed with activities, and quite well attended. The almost 70 attendees from 20 countries included six USITT members.
Highlight of all three days were the tours which included:
The Royal Opera House
The Court Theatres at Drottningholm, Gripsholm, and Confidnzen - all with working baroque machinery
The Stockholm Academy of Dramatic Arts.
For many attendees, the absolute best experience was the opportunity to interact with the vintage stage machinery at the Baroque Theatres.
The hosts and sponsors provided meals and experiences such as travel by boat to/from the court/castles and an evening meal at the Artipelag Art Museum. The generous sponsors all offered demonstrations and discussions of their services and products and included: Rexroth, NovoScen, Bright AC Technologies, ShowTex and VisualAct.
The Technical Commission business meeting on June 6 had 16 voting delegates in attendance. The highlights include –
a report of upcoming PQ and World Stage Design activities in Taipei July 2017
update on Digital Theatre Words progress (APP available at by searching OISTAT in the App Store or Android Play)
Work on the International Standards and Regulations Project and Survey
support for Cuban theatres affected by the destruction of recent hurricanes
the Theater History working group Theatre Timeline project.
The discussion about historic theater machinery resulted in a formal resolution to provide a letter to the Bourla City Council in Antwerp, Belgium encouraging them to include preservation of the historic stage machinery as they contemplate a renovation of that city's historic theatre facility. A tentative announcement of the next meeting (date TBD) in St. Petersburg Russia was given.
The final day also included formal presentations at the Stockholm Academy of Dramatic Arts. These included –
Case Study of Chinese Stage Technology by Ma Lu and Feng Qiyun (China)
Analysis of Current Situation and Prospect of Chinese Theatre by Cao Lin (China)
The Possible uses of Baroque Theater Machinery by Jerôme Maeckelbergh (Belgium)
Will you work safe? by Chris Van Goethem (Belgium)
Event Safety Alliance by Erich Friend (USA)
CEN/TC 433 (international technical standards) by Andreas Bickel (Germany)
Scenic stage, acting stage, orchestra pit and auditorium: a review of 20th century research and how these areas connect in European 18th century theatres by Iain Mackintosh (UK)