News & Notices
Learning from the Pros: My Elite Training Experience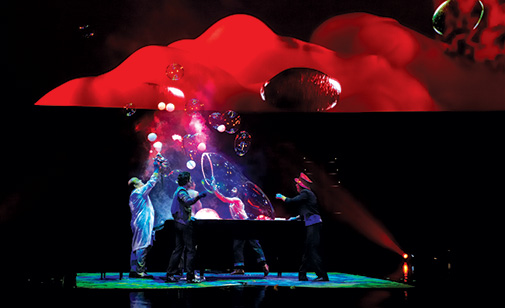 Earlier this year, I applied to the USITT Elite Training Program, designed for students and early career members who go to Las Vegas and learn from professionals, including Cirque du Soleil staff and related companies. I was accepted into the stage management track, one of five offered. Since I recently completed my second year as a BFA stage management major at The Theatre School at DePaul University, I was extremely excited to experience these three days of intensive training.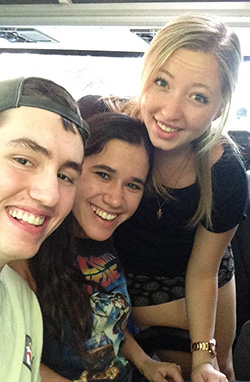 That first morning I could feel the excitement in the bus when we saw the Cirque du Soleil sun logo on the front door. After a quick overview, the stage managers traveled to the Cirque du Soleil Resident Show Division offices, where we met our incredible trainer, Stacey Myers, general stage manager of KA. After introductions we received information about various productions, as well as the many legal issues managers might face. In the time before lunch, our knowledge had been broadened tenfold.
After lunch, Ms. Myers surprised us with five other Cirque du Soleil stage managers to look over our resumes. Having the opportunity to speak with not one manager but six was more than any of us could imagine. We were given feedback on ways to style a resume, what people tend to look for, as well as how to create a resume tailored to a specific audience. The day ended with a networking event with all Elite students and trainers.
Our second day started with Ms. Myers and colleagues sharing how they manage a Cirque du Soleil and a backstage tour of O. Seeing how professionals make this aquatic masterpiece come to life every night took our collective breath away. At the end of the tour, four of the eight students stayed to watch the first performance. But the surprises continued. Before parting ways, we learned the company manager of LOVE, Kim Scott, had offered all the Elite Training students tickets to their second performance of the night. Our excitement soared as high as Lucy in the Sky.
On our final day we met two members of the Zarkana team: artistic director, Ann-Marie, and general stage manager, Nog. They explained their relationship and how they work together to bring this show to life, especially with the various language barriers. This was particularly helpful for me, since I was about to go to Prague to help stage manage the Prague Quadrennial and interact with an international audience.
Ms. Myers ended our time together by talking about how to become the greatest manager possible -- how to know about ourselves as people and discover our own style of working before beginning to manage others. We were then treated to a backstage tour of Zumanity. Afterward, I sat in the audience for a close-up look at the sensual side of Cirque du Soleil. Watching from the house, I felt all of the lessons I had learned in the past three days come into play, and I realized I was seeing the show in a completely different way. I was not only watching it as a spectator, but analyzing it as a manager.
That night, while saying our goodbyes and making plans to meet up at the Salt Lake City 2016 Conference & Stage Expo, we all agreed that we could not be more thankful to Cirque du Soleil and USITT for giving us three of the most unforgettable days of our lives.
Elite Training opened my eyes to various styles of management and presented me with new tools and techniques that I will implement in my future work, helping me in my journey to become the best manager I can be.