News & Notices
Scene Commission Seeks 2016 Poster Submissions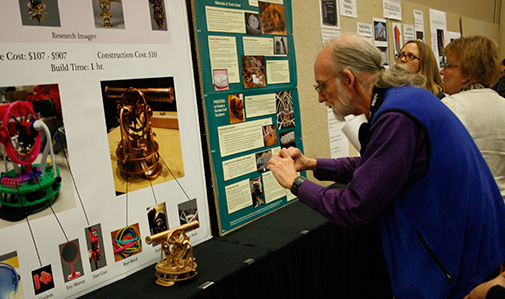 Get ready to submit ideas for I'll Show You Mine if You'll Show Me Yours, the Scene Design & Technology Commission's poster session for 2016 Annual Conference & Stage Expo in Salt Lake City, Utah.
Submissions will be accepted through November 15.
The poster session is a way to become more active and involved in USITT and an excellent opportunity for seasoned professionals to share expertise. Academics can use the juried exhibit to help polish tenure files.
The adjudicators are looking for innovative solutions to scene design problems, the crafting of exciting props, the creation of new paint techniques, pioneering and exciting teaching methods, unusual and interesting ways to use products, and the application of old technologies to solve new problems or new techniques to solve old problems.
Submissions for the poster session can be made here. An abstract of 200 words or less detailing the project and a short bio is required. One additional visual element may be submitted. Acceptable file formats include pdf, and jpg for the additional element, with files up to 18 by 20 inches at 200 DPI in PDF format. Do not include personal information in abstract or file names to ensure anonymity during the blind jury process.
Questions should be submitted to the session chair, Brian Ruggaber, at ruggaberdesign@gmail.com.
USITT members who are selected will receive a presenter ribbon on their conference badges and may fulfill a member's need to present at a conference to receive travel funds. Following the session, posters will remain on display throughout the conference and some outstanding posters may be published in TD&T.