News & Notices
Rouse New VP Special Ops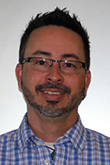 Eric Rouse has an impressive resume – technical director for the Denver Center Theatre Company, ETCP Certified Rigger and Recognized Trainer, flying director for Foy, rigging supervisor for Cirque du Soleil's O, and former tenured professor of scenic technology at Penn State University. And he credits USITT with helping him achieve it all.
That's why he jumped at the chance to serve as Vice-President for Special Operations, taking over from Dan Denhart on July 1.
He is in charge of special exhibits at Stage Expo -- from ideas to setup -- and a plethora of other operational areas (as the title implies).
He said he foresees more involvement by students and faculty, and a greater effort to promote diversity with Special Ops. He brings variety and enthusiasm for many disciplines to his post.
A native of Puerto Rico, Mr. Rouse wanted to be a marine biologist. He acted in high school plays – starring in The Importance of Being Earnest his senior year – but didn't discover stage technology until college.
"And that was purely by coincidence," he said. "I needed a work-study job, and the only one I could find was in the theatre department at Franklin & Marshall College" in Pennsylvania.
John F. Whiting, the college's resident scenic and lighting designer, became Mr. Rouse's mentor, and Mr. Rouse spent four years doing lighting and sound design as a French major. "My first professional gig was running sound for a Flamenco company," he said. "Since I knew Spanish, I worked well with them and ended up traveling with them as their SM."
After stints at several local theatre companies, he enrolled at Penn State in 1994 for his MFA in scenic technology. He joined USITT in time for the 1997 Annual Conference & Stage Expo in Pittsburgh, Pennsylvania. He signed up for a job interview with Rick Stephens, then scene shop supervisor at the University of Texas at Austin.
"Rick (now a USITT Fellow and award recipient) was and still is a legend," Mr. Rouse recalled. "I knew I was in way over my head, but I went anyway. The first words out of his mouth were, 'You know you're not qualified for this job, right?' To which I answered honestly, 'Yes.'"
They had a great chat anyway, and Mr. Stephens became a friend and advisor. "Honestly, that is what fuels my involvement in USITT," Mr. Rouse said. "Mentorship and education are so important in our field. I want to be able to help folks starting out, just like Rick did."
Mr. Rouse designed flying systems for Flying by Foy, was a rigging supervisor for Cirque du Soleil, served as TD at the University of South Carolina, and went back to Penn State to teach. In 2014, he and his wife, Cathy, moved their family to Denver, where he is TD for the Denver Center Theatre Company.
He's helping organize the first Jay O. Glerum Rigging Master Classes to begin next year in memory of master rigger and USITT Fellow Jay Glerum.
Mr. Rouse's personal causes within USITT include safety, mentoring, and diversity. His supportive family enables him to pursue his passions.

"Cathy and our four kids have followed me around to four different stages and hold down the fort when I'm away on business," he said. "They know I love what I do, and they want me to do it. I couldn't be luckier."