News & Notices
Stage|Set|Scenery a Diverse Experience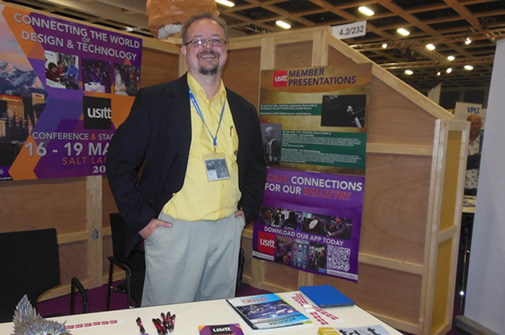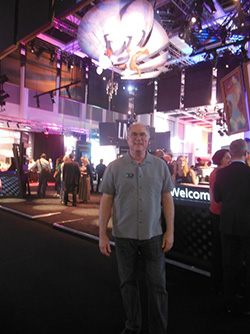 The Messe Berlin Exhibition Grounds partnered with Deutsche Theatertechnische Gesellschaft (DTHG) June 9 to 11 for the biennial trade fair and congress, Stage|Set|Scenery. This represents a change for DTHG and a focus that is no longer just products but also projects. Four large halls were filled with 270 exhibitors, and more than 6,000 individuals attended.
USITT was well represented by Executive Director David Grindle, Greg Cook, Randy Earle, Marketa Fantova, Fred Foster, Daniel Lisowski, Martin Moore, Michael Ramsaur, Kevin Rigdon, and Jenny Yeung, among others. Josafath Reynoso and Dan Lisowski, USITT award winners, presented sessions.
The International Stage Technology Conference included symposia on theatres and cultural spaces in urban centers, and their continuous metamorphosis and cultural adaptation in the 21st century.
OISTAT sponsored an architectural competition for design of a floating theatre on Berlin's river Spree. Two Canadian artists, Erin Fleck and Sebastian Bartnicki, shared the first prize of 5,000 Euros for their simple, creative, and elegant solution for the project. Mr. Grindle co-presented the award and sang a duet with Julia Hillens. For a complete list of submitted entries, go to www.oistat.org and click on 2015 TAC Digital Catalogue.
The Architecture Commission also conducted a business meeting on Wednesday and discussed plans for future meetings and locations. Reinhold Daberto led a small group walking around Berlin to visit various venues including Fredrichstadt Palast, Deutsches Theater, Berliner Ensemble and the massive new production workshops for Berlin's three major opera companies and two large theatre companies where all scenic, property and costume elements are constructed in a collaborative, joint facility.