News & Notices
Accepting Submissions for Best Theatre Architecture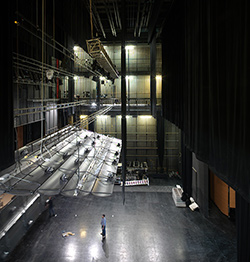 Submissions for USITT's 2016 Architecture Awards, for outstanding performance spaces completed in the past 10 years, will be accepted until September 1. These are the only awards given for completed performance spaces around the globe.
The awards program, sponsored by USITT's Architecture Commission, honors excellence in the design of contemporary theatre projects by professional architects and consultants. Submit a project at www.usitt.org/awards/profarch.
New or renovated buildings housing performance spaces are eligible to enter if completed since Jan. 1, 2006.
A panel of peer adjudicators will consider submissions based on creativity, contextual resonance, functional operation, use of new technology, and community contribution. Panel members recommend recipients for Merit Awards or the top award, Honor Awards, to be presented at USITT 2016 in Salt Lake City, Utah, next March.
This year USITT bestowed 2015 Merit Awards to Milton Court, the performing arts building at the Guildhall School of Music in London, UK, and to the Reed College Performing Arts Building in Portland, Oregon.
The 2015 Honor Award went to the National Theatre of Bahrain, designed by A-S Architecture Studio in Paris, France, with Theatre Projects Consultants of London.
The USITT Architecture Awards were established in 1964 to recognize theatre architecture as a unique discipline and increase the interest of architects in USITT and designing for the performing arts.
USITT considers theatre architecture to be an important facet of performing arts design and technology. Besides the professional architecture awards, USITT and sponsor American Seating hold an annual competition for theatre and architecture students to design an ideal theatre for their college campus, and USITT offers many sessions carrying AIA/CES credits at its Annual Conference & Stage Expo.