News From
Contributing Members
Wenger Corporation: Focuses Acoustical Expertise, Targets Innovation
To leverage its unmatched history of acoustical experience with performing arts facilities worldwide and to accelerate new product innovation, Wenger Corporation has instituted a new organizational focus designed to provide customers with leading-edge acoustical solutions.

This initiative will be spearheaded by Ron Freiheit, director of product development and acoustics, who is a Fellow of the Acoustical Society of America and an internationally respected researcher and lecturer on acoustical topics. He holds a U.S. Patent related to virtual acoustic technology.
Mr. Freiheit will lead Wenger's team of product engineers and technicians as a key industry resource to assist consultants, architects, and facility owners. Recent acoustical innovations from Wenger include the Transcend Active Acoustic System using digital signal processing technology to make performance spaces more multi-purpose. Also launched in 2015, Transform Motorized Acoustical Banners provide affordable variable acoustics. These new solutions complement established products like the Diva Acoustical Shell and VAE®technology, an industry first, that redefines any rehearsal space.
"We've elevated our commitment to serve the acoustic needs of the performing arts market, building on our company's accomplishments in this segment," said Chris Simpson, president and CEO. "By leveraging our expertise and experience with both Wenger and J.R. Clancy solutions, we can better provide facilities worldwide with the industry's largest breadth of custom capabilities and specialized products."
Rose Brand Inc.: Rivet to Represent Hardware, Rigging Line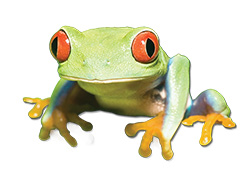 After over 645 entries in its mascot naming contest, Rose Brand Inc. chose Rivet as the mascot for the its hardware and rigging line. The winning entry was submitted by Joe Dugan from Multi Image Group. Mr. Dugan won a $500 Rose Brand credit.
Names were judged on creativity, appropriateness, and relevance to the business. Since the company uses rivets in its custom sewn productions, Rivet is fitting for the frog that represents the brand.
Many of the submissions came with memories about Rose Brand and customers' experiences with its products. The most submitted name with all its variations was Rigit, with a total of 130 entries. Other popular submissions were forms of Rosie, Gripper, and Crosby. Some other contenders deserving honorable mentions are Rosie the Rigger, Rigger Morris, Rigger Tony, Sir Leaps a Lot, and Handsome George.
For more information about products and services offered by Rose Brand, visit www.rosebrand.com.
Meyer Sound: Essential to Grateful Dead's Success, 'Fare Thee Well' Tour
Fifty years after forming their band at a Palo Alto music store, the surviving founders of the Grateful Dead kicked off their end-of-an-era "Fare Thee Well" mini-tour at Levi's Stadium in Santa Clara, California with a Meyer Sound LEO linear large-scale sound reinforcement system driving a quadraphonic surround setup.
The two Silicon Valley shows were a landmark occasion with more than the 60,000 devoted Deadheads attending each evening. It also was a milestone in the band's decades-long association with Meyer Sound CEO John Meyer, a relationship spawned from a shared passion for audio experimentation and audience experience. The Grateful Dead's original sound engineer, Owsley "Bear" Stanley, first tapped Mr. Meyer to create acoustic solutions for the legendary "Wall of Sound" system in the 1970s.
The Meyer Sound LEO system with its accompanying 1100-LFC low-frequency control element delivered an immersive fan experience in the large football stadium and supported an experimental segment devised by drummer/percussionist Mickey Hart. Using the Meyer Sound system to transmit ultra-low frequencies in surround sound, Hart probed how the brain perceived audible and below-audible rhythms.
"John Meyer's 1100-LFC loudspeakers empower the rhythmic voice and enable percussionists to manifest new ideas," said Mickey Hart. "They are sonic tools for reliably transmitting vibrations that affect neurologic function in a special way we are only beginning to understand, enabling us to explore healing properties embedded in low-frequency sound—a dream come true for us all."
Mr. Meyer's work with the Grateful Dead extends to the mid-1970s when the band's concerts were heard through McCune Sound Service's JM-10 systems designed by Meyer. The relationship continued through the band's last tour with Jerry Garcia in 1995, supported by Meyer Sound MSL-10 loudspeakers. Meyer Sound systems have been a staple for tours of reunion and spin-off bands during the interim, including the 2005 and 2009 tours equipped with a Meyer Sound MILO system when the core members were known as The Dead. In 2011, the band's Bob Weir installed a Meyer Sound Constellation acoustic system in his Tamalpais Research Institute (TRI).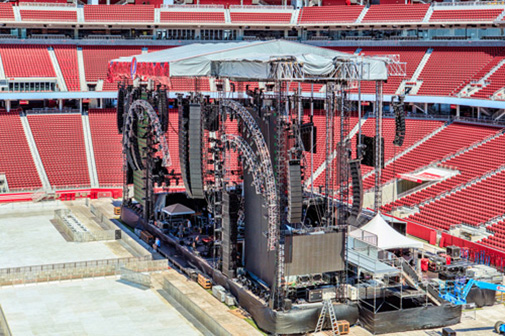 ETC: Celebrates Most Successful CUE Conference
From Friday, June 26 through Sunday, June 28 more than 200 people from around the world joined ETC at CUE in Madison, Wisconsin, for lighting education, console training and certification, networking and special events.
The event kicked off with a keynote address by CEO Fred Foster about the growth of ETC over the last four decades and the company's focus on customer service and product innovation. Mr. Foster also unveiled new products, including the affordable ColorSource Spot profile LED luminaire and console programming wings that officially debuted in July.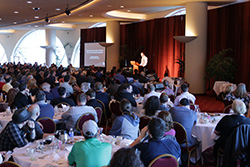 Josh Allen, award-winning lighting designer from Theatre Consultants Collaborative, and Al Crawford, lighting director for the Alvin Ailey American Dance Company and CEO of arc3design, also spoke. Mr. Allen covered the history of electricity in an entertaining and enlightening presentation that featured influences from pop culture, on-the-street interviews, and little-known conspiracy theories. Mr. Crawford talked about his time touring with the iconic Alvin Ailey troupe, and how he and his tech crew have worked in a constantly changing array of theaters in many different countries.
Both Mr. Allen and Mr. Crawford taught master classes. Mr. Allen partnered with GDS by ETC Product Manager Chris Patten to discuss easy ways to upgrade a theater with modern products like LED houselights. Mr. Crawford's master class touched on lighting for nontraditional installations. To demonstrate the possibilities, Mr. Crawford used images from some of the projects arc3design has designed, including corporate events, weddings, and building exteriors.
Emmy Award-winning lighting designer Patrick Boozer's class covered using the ETC Eos console for live music events. Packed with footage from concerts, the class gave practical advice on busking, device management, and other console features crucial to effective live-music lighting.
ETC and media partner LSA expanded the reach of the CUE conference by live-streaming several of the sessions, including the three keynote addresses and Crawford and Boozer's master classes. Hundreds of people around the globe tuned in to watch, and the sessions are now available at www.etcconnect.com/CUE/archived-videos.
ETC's next CUE conference will take place in 2017. Information about other ETC training opportunities is available at www.etcconnect.com/Support/Training-Events.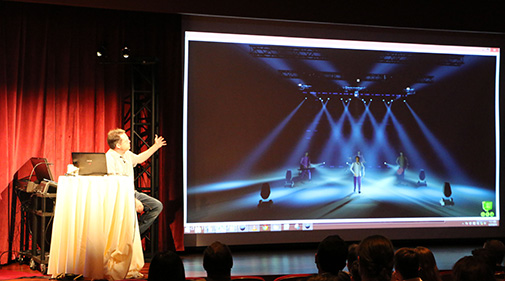 Philips Entertainment: Sponsors Educational Outreach with UNLV
Philips Entertainment chose the University of Nevada Las Vegas as a partner in its Educational Outreach and Sponsorship Program. As part of the sponsorship, Philips Entertainment has donated Philips Vari-Lite VL3015 Spot, VLX Wash and VL770 Spot luminaires along with Showline SL NITRO 510 LED strobe luminaires and a Philips Strand Lighting NEO lighting control console to UNLV for use in its educational programs and theatrical productions.
"We've dealt with Philips Vari-Lite and Philips Strand Lighting several times in the past so when we were approached about the sponsorship program, we jumped at the opportunity to participate," said Brackley Frayer, chair and executive director of the UNLV Department of Theatre and the Nevada Conservatory Theatre. "This sponsorship truly means a lot to us, but it's not only about the gear; it's also about the support it will provide to our educational programs. We are very excited about new relationship we will have with Philips Entertainment which will be essential to the educational and professional growth of our theatre students."
"The Philips Entertainment sponsorship program is a fantastic way for us to nurture the next generation of lighting designers and technicians," said Julie Smith, Philips Entertainment general manager of the Americas. "UNLV has a wonderful program with a tremendous professional theatre company that challenges the student designers to reach new heights of creativity."