The Last Word:
Feng Shui Me: Creating an Efficient Studio Space - Part Two
Goal number one is to never get frustrated and bogged down on the details of rearranging your space to incorporate feng shui. As Elizabeth Popiel can attest, moving into a new space can be just as challenging as working with an existing studio space. Stay positive and keep that good energy flowing while you create the efficient studio space you always dreamed of.
Last month, we looked at Elizabeth's old personal office and workspace. In this issue we can, after months of waiting, finally reveal her new space that has incorporated feng shui into the new layout and design. She used a tool call the bagua to help her map out her room to see how the different sections correspond to different aspects of her life. The bagua map is used today in modern forms of feng shui. See how she overlaid the map on the ground plan of her new office space to help understand the areas and their meaning. As a special note, the desk and shelves are permanently fixed to the walls, so no modifications were permitted there. This layout came down from the architects of this new building. Still there is always room for enhancement and movement of what is called chi – good energy.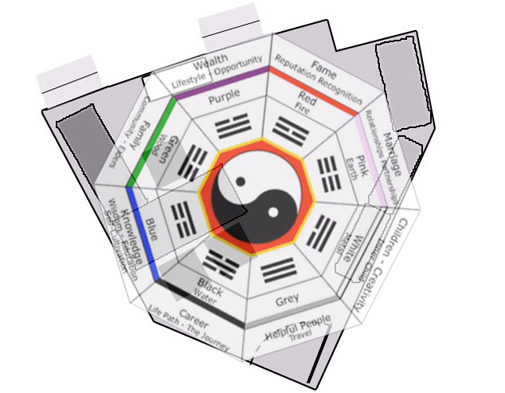 Let's take a closer look at the areas of the map. At the entrance of the career area, a plant has been placed to nurture the "water" element and keep career flowing. This picks up the corner of the desk, which is next to the "knowledge and wisdom" area. Around the plant are glass pieces to help with the disbursement of life path and wisdom. To the left is a bulletin board, which shows places to go for studies and goals. To the sharp left are awards and honors, which also could be placed in the "fame" area.
In the "community-family" area are files for student work and other items to keep clean records. There is also a picture of Elizabeth's family and friends in the window to help shed light on them and keep them warm.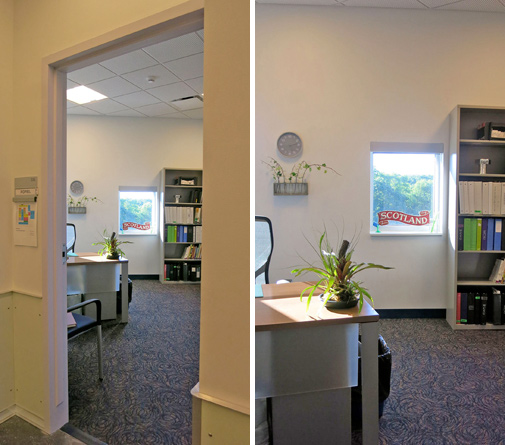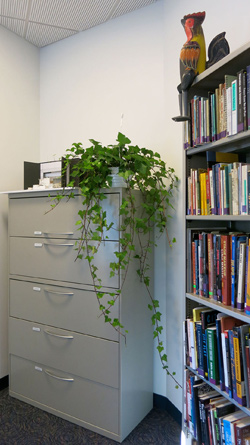 The "wealth-lifestyle and opportunity" area has a small shelf with vessels to receive some of the opportunities. These are made of clear glass to allow for transparency. This borders on the "fame" area to the right, where mementos of some of the more prestigious and important moments in terms of activities are kept. Binders of past projects and books, that are ready to include the current new projects, are placed here as well. Elizabeth is currently working on a sabbatical proposal, so books on that topic are here along with red, for the fire element, to feed the project.
Moving around to the last two areas of "earth or marriage" and "creativity," to help ground marriage, earth elements are introduced. Putting a few playful toys and videos of productions enhances creativity and the inner child area.
To the immediate right, behind the door, is a bulletin board with pictures of friends, happy times, and helpful people.
In the case of this project, Elizabeth can attest that having clean surfaces, simple lines, and objects she cares about and respects are extremely important to a good sense of well being, as well as good flow of energy in life.
Using the bagua map over a space can help people figure out how to arrange a personal studio. Feng-shui can also help set priorities of what is truly important within a space. Remember that allowing "wind and water" elements to have a presence and flow will bring about positive change and prosperity. By incorporating these feng shui techniques into a studio space, anyone can hopefully feel happier, healthier, and more fulfilled in all facets of life.