News & Notices
Gabrielle Chiddy Named Marketing Strategist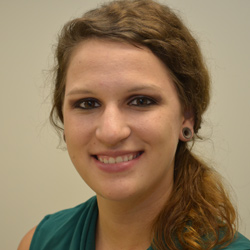 Gabrielle Chiddy, USITT's new marketing strategist, rode an elephant in Thailand and explored Greek ruins in Ephesus, Turkey. She will bring her world-wide experience to help market the Institute to new audiences.
She is a 2013 graduate of Buffalo State College, where she majored in public communication and minored in women and gender studies. In her new position, she will focus on branding and marketing the organization, and help launch new events and programs, said Barbara E.R. Lucas, Director of Communications. The position was created in June.
"Gabrielle will be exploring new avenues for positioning USITT as the forward-thinking organization that we are, to both larger communities and with new events like LiNK," Ms. Lucas said.
LiNK is the graduate school audition/interview event organized by USITT and SETC for November 14 to 15 in Atlanta, Georgia.
Ms. Chiddy's previous marketing experience includes creating ads and fund-raising for a start-up company offering teen cycling tours, and an internship with Crisis Services in Buffalo, where she managed social media and event planning to raise awareness of sexual assault and domestic violence. She began volunteering at Crisis Services as a victim's advocate and trained to become a certified rape crisis counselor. She hopes to continue her involvement in Syracuse.
Ms. Chiddy hails from a small town, Moravia, New York, where "I graduated high school with 67 people," she said. But in sixth grade, she accepted an offer from People to People student ambassador programs to travel to Australia and New Zealand, and her family helped her fundraise to pay for it.
She now feels she was too young to get the most from that trip, but it did introduce her to the joy of travel. She took school trips to Italy and Spain as a high school sophomore and to France and England as a junior. "I am so happy that my parents saw the importance of traveling and allowed me to do that," she said.
As a college sophomore, she took a two-week study trip to Thailand. Last year she took an anthropology course focused on Turkey which ended with a visit to Istanbul with the college literature department.
"It was amazing," she said. "It made me want to learn the Turkish language."
She said her future goals are to travel to Africa and Japan, but right now she's looking forward to going to Cincinnati in 2015.
In addition to visiting nine countries in the past nine years, she is an avid cyclist, bowler, and volleyball player. She is currently decorating a new apartment in Syracuse, for herself and her cat, Marlo.